Description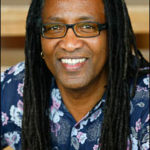 Eugene Skeef FRSA
Eugene Skeef is a South African percussionist, composer, poet, educationalist and animateur and has lived in London since 1980. He also works in conflict resolution, acts as a consultant on cultural development, teaches creative leadership and is a broadcaster. In 2003 he founded Umoya Creations, a charity set up to facilitate this international work. As a young activist he co-led a nation-wide literacy campaign teaching in schools, colleges and communities across apartheid South Africa. As well as being at the forefront of the contemporary music scene collaborating with innovative artists, he has also been instrumental in developing the education programmes of some of the major classical orchestras in the United Kingdom.
Eugene is a Fellow of the Royal Society of Arts and has served on the board of directors of the London Philharmonic Orchestra (LPO). He is on the advisory committee of Sound Junction, the Associated Board of the Royal Schools of Music's award-winning interactive multimedia educational project. In September 2004 he was appointed musician in residence of the Purcell School of Music. In March 2005 Eugene performed with his Abantu Ensemble at Buckingham Palace and was presented to the Queen as part of the historic Music Day to celebrate the diversity of culture in Britain.
In June 2008 Eugene and Richard Bissill's Excite!, an orchestral commission by the LPO, premiered at the Royal Festival Hall at Southbank Centre, London.
Eugene is the Artistic Director of Quartet of Peace, an international project initiated by Brian Lisus, the South African luthier who has made a quartet of string instruments in honour of South Africa's 4 Nobel peace laureates, Dr. Albert Luthuli, Nelson Mandela, Archbishop Desmond Tutu and FW de Klerk. Quartet of Peace uses music to bring about peaceful resolutions to conflict and poverty, with a special focus on young people.
In 2010 Eugene's collaborative project The Battle Of The Wordsmiths (with writer Tunde Olatunji and producers Blue Hippo Media) was shortlisted for the PRS New Music Award.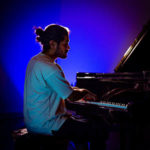 Narotam Horn
London based composer and pianist Narotam Horn began studying composition under Jonathan Cole and Dai Fujikura at the Purcell School of Music. Narotam was selected as the youngest composer to take part in Harrison Birtwistle's Birthday Celebration in the Queen Elizabeth Hall, and he received an honourable mention in the BBC Young Composer of the Year. Narotam's music has been performed in the Wigmore Hall by the NASH ensemble, the Cadogan Hall by Ian Brown, the Royal Albert Hall, Elgar Room, and the Outsider Art Fair New York.
Narotam's music fuses western jazz and classical traditions together with the devotional folk music of west Bengal. His debut album, "Bhajans" aims to share in principles of devotional music making with fresh stylistic freedom, and features an innovative collaboration with tabla player Keshav Sharma. Together they have explored the melodic and percussive possibilities that cross over the musical traditions of these instruments.
In 2017, Narotam established the River Recital event with VR artist, Ninon Ardisson. This event was started with a vision to showcase and embrace music of all cultures and backgrounds. The River Recital is held in a community of house boats and floating gardens on the river Thames, and has hosted performances from acclaimed musicians such as Teo Gheorghiu, Eugene Skeef, Lucie Treacher and SKELTR.
https://www.narotamhorn.com
Abel Selaocoe
South African cellist Abel Selaocoe is redefining the parameters of the cello. He moves seamlessly across a plethora of genres and styles, from collaborations with world musicians and beatboxers, to concerto performances and solo classical recitals. Abel combines virtuosic performance with improvisation, singing and body percussion, and has a special  interest in curating recital programmes that highlight the links between Western and non-Western musical traditions, with view to helping classical music reach a more diverse audience.
Having completed his International Artist Diploma at the Royal Northern College of Music in July 2018, Abel has already performed extensively across the UK, at venues including Cadogan Hall, Royal Albert Hall, Sage Gateshead, and Bridgewater Hall. He has appeared as soloist with orchestras including BBC Philharmonic and BBC National Orchestra of Wales, and has performed with orchestras across South Africa, including Kwa-Zulu Natal, Johannesburg and Cape Town Philharmonics.
Abel is a keen chamber musician, having made his Wigmore Hall debut in 2013 with composer Colin Matthews. He is the co-founder of BBC Introducing ensemble Kabantu, and in 2016 formed Chesaba – a trio specializing in music from the African continent, including compositions by Abel. He has enjoyed close collaborations with musicians from a medley of genres, including Tim Garland, Seckou Keita, Giovanni Sollima, Gwilym Simcock, and 12ensemble. In recent seasons, Abel has curated programmes at Kings Place, the Aldeburgh & Oxford Chamber Music Festivals, and has performed in both the late night BBC Proms, and BBC Proms Extra series.
Abel has recently been selected for Serious Music's Take Five – a development scheme for the UK's most talented jazz composer-performers, and has been the recipient of multiple awards, including the Standard Bank Young Artists Award and the Sir Karl Jenkins Award in association with Classic FM. He is grateful to Help Musicians UK for awarding him the Karl Motesiczky Scholarship.
Vilk Collective
"Vilk Collective are an utterly unique proposition, there are elements of jazz, dub, funk, hip hop, Iran and Cuba that combine so well it's a testament to the skill of the bands members and the music itself. Most importantly though, Vilk Collective have a groove that anyone can lock into." Chris Knight Director of Kelburn Garden Party Festival, Scotland. Vilk Collective at its core, is creative duo Roxana Vilk and Peter Vilk both musicians and award winning filmmakers, who met in Bosnia just after the war. War was a backdrop to both their childhoods, Roxana grew up in Iran and her family fled as the Iran/Iraq war started. Pete was born in London but his parents grew up in the old Czechoslovakia and had fled to London when the Russian tanks invaded in 1968. They both grew up listening to eclectic music from Iranian Folk songs & Per-sian Funk to Czech Jazz & Punk. At the heart of their artistic approach is collabora-tion – for 15 years they recorded & performed with top musicians like Yann Seznec on Keys (Mathew Herbert), Allan Ferguson on Bass (Freaky Family) and Dougie Hudson on Percussion (Salsa Celtica) BBC TV has filmed Vilk Collective for 3 separate music programmes & recorded live sessions at The Premise Studios, London. They were selected for the UK Jazz Expo at the Edinburgh Jazz and Blues Festival and commissioned to create 45 minutes of original music for the Edinburgh Art Festival as part of the Nam Jun Paik Exhibition. Now based in Bristol they released a single in November 2019 "Just Disappeared" featuring renowned Cellist Su-a Lee (Scottish Chamber Orchestra) which was picked up by BBC Introducing described "as a virtuoso trip, utterly beautiful". The music video won 2nd Grand Prix du Jury at AVIFF Cannes Festival and Best Artist Award at New Renaissance Film Festival London. They are currently recording, mixing & collaborating online for their next EP release under lockdown 2020. LINKS Spotify: https://tinyurl.com/y93czt5k FB: https://www.facebook.com/vilkcollective/ BC: https://vilkcollective.bandcamp.com IN: https://www.instagram.com/vilkcollective/ SC:https://soundcloud.com/vilkcollective You:https://tinyurl.com/yappkovp www.vilkcollective.com
Alice Zawadzki
Loosely connected to the jazz world but realistically inhabiting her own realm, vocalist, violinist, and composer, Alice Zawadzki, is a distinctive presence on the European creative scene. Her rich musical background and "whimsical hyper-creativity" (MOJO Magazine) draw upon her early exposure to New Orleans jazz and gospel, an extensive classical training as a violinist, and a continuous exploration of improvisation, poetry, and folk music from diverse traditions, "all propelled in a voice of velvet suppleness and gutsy emotional power" (The Arts Desk). She performs extensively as a soloist and a collaborator internationally, having played in Canada, the States, Brazil, Europe and the Far East. Her 2019 release, Within You Is A World Of Spring (Whirlwind Recordings) was met with warm critical praise, being made Contemporary Album of the Month by The Guardian newspaper, and described by Jazzwise Magazine as "Tender in spirit and defiantly anti-genre… A cornucopia of delights." ★★★★ Her debut album China Lane was made Album of the Week by BBC Radio 3, had numerous radio and live appearances, was described by The Guardian as "a genuine original" and led to her being nominated for vocalist of the year by both Jazz FM and the Parliamentary Jazz Awards. As an interpreter of new and unusual works, she has premiered several large-scale works both in the UK and internationally. She trained in Jazz voice and composition at the Royal Academy of Music and in violin at the Royal Northern College of Music, with scholarships from the Musicians Benevolent Fund, and the Hilda Collens Prize.