Curated by Orrin Evans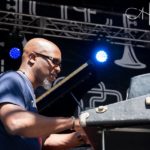 For more than two decades, Orrin Evans has made an art form of the unexpected. With more than 25 albums to his credit without ever relying on the support of a major label, Evans has become the model of a fiercely independent artist who's made a habit of rattling the jazz world's confining cages. That determination has paid off in accolades like topping the "Rising Star Pianist" category in the 2018 DownBeat Critics Poll.
As a daring pianist, Evans combines raw-edged vigor and left-field nuance into a sound wholly his own. As an adventurous composer he traverses stylistic boundaries with abandon, drawing on full-throttle swing, deep rooted blues, expressive soul or bracing excursions into the avant-garde. As an audacious bandleader, he delights in daring fellow musicians to take bold risks, whether in mutable small group settings or his raucous Captain Black Big Band. As an inventive collaborator, his projects range from the nerve-rattling collective trio Tarbaby to the latest twist in his never predictable story, becoming the first new member to join The Bad Plus in the band's nearly 20-year history.
Evans' broad-minded, provocative approach has led to a stunning variety of collaborations with a who's-who of modern jazz including Nicholas Payton, Sean Jones, Oliver Lake, JD Allen, Christian McBride, Eric Revis, Buster Williams, Karriem Riggins, Bill Stewart, Nasheet Waits, Kevin Eubanks and Kurt Rosenwinkel, among countless others.
In 2018 Evans relaunched his Imani Records label with a newfound focus on projects by young, innovative musicians, beginning with albums by saxophonist Caleb Wheeler Curtis and bassist Jonathan Michel. He's also produced recordings by JD Walter, Denise King, Joanna Pascale, Sharel Cassity, and Eric Revis.
Evans pays homage to his mentors and influences while passing the torch to new generations. He's recently performed concerts paying homage to the late Geri Allen alongside drummer Terri Lyne Carrington and a celebration of the centennial of Thelonious Monk at Duke University, along with curating concert series at Philly's South and New York's Smoke. As an educator he directed the Kimmel Center for the Performing Arts' Jazz Standards and taught at Connecticut's Litchfield Jazz Camp.
Showing the single result