Description
88 Keys Productions Presents…
Presented by ACT4Music Curator Orrin Evans
Concert curated by Orrin Evans featuring Vanessa Perea & Robert Edwards, Jonathan Michel, Yuma Sung, Sam Newsome and Alexander Claffy.
Orrin Evans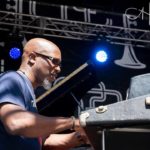 For more than two decades, Orrin Evans has made an art form of the unexpected. With more than 25 albums to his credit without ever relying on the support of a major label, Evans has become the model of a fiercely independent artist who's made a habit of rattling the jazz world's confining cages. That determination has paid off in accolades like topping the "Rising Star Pianist" category in the 2018 DownBeat Critics Poll.
As a daring pianist, Evans combines raw-edged vigor and left-field nuance into a sound wholly his own. As an adventurous composer he traverses stylistic boundaries with abandon, drawing on full-throttle swing, deep rooted blues, expressive soul or bracing excursions into the avant-garde. As an audacious bandleader, he delights in daring fellow musicians to take bold risks, whether in mutable small group settings or his raucous Captain Black Big Band. As an inventive collaborator, his projects range from the nerve-rattling collective trio Tarbaby to the latest twist in his never predictable story, becoming the first new member to join The Bad Plus in the band's nearly 20-year history.
Evans' broad-minded, provocative approach has led to a stunning variety of collaborations with a who's-who of modern jazz including Nicholas Payton, Sean Jones, Oliver Lake, JD Allen, Christian McBride, Eric Revis, Buster Williams, Karriem Riggins, Bill Stewart, Nasheet Waits, Kevin Eubanks and Kurt Rosenwinkel, among countless others.
In 2018 Evans relaunched his Imani Records label with a newfound focus on projects by young, innovative musicians, beginning with albums by saxophonist Caleb Wheeler Curtis and bassist Jonathan Michel. He's also produced recordings by JD Walter, Denise King, Joanna Pascale, Sharel Cassity, and Eric Revis.
Evans pays homage to his mentors and influences while passing the torch to new generations. He's recently performed concerts paying homage to the late Geri Allen alongside drummer Terri Lyne Carrington and a celebration of the centennial of Thelonious Monk at Duke University, along with curating concert series at Philly's South and New York's Smoke. As an educator he directed the Kimmel Center for the Performing Arts' Jazz Standards and taught at Connecticut's Litchfield Jazz Camp.
Vanessa Perea & Robert Edwards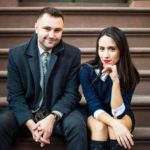 Vanessa Perea is a jazz vocalist who embodies the tradition of the masters. She swings hard, sings beautifully with a sweeping range, and can really tell a story. She began her musical journey since the moment she could talk; singing in her school choir and children's church choir. At the age of 10 she started taking piano lessons and at the age of 12 she  began classical voice lessons. In high school, she was involved in staged musical productions and became the cantor at her church. In a desire to continue pursuing her passion for music, Vanessa attended New Jersey City University where she studied with Grammy-nominated jazz vocalist, Roseanna Vitro, and operatic-soprano Donna Connolly. She graduated in 2010 with a BA in Music Education.
After graduating university, Vanessa started working as a jazz vocalist in the NY/NJ area performing with numerous ensembles. In 2014, she released her debut album entitled, Play Date. And, in 2016 joined the band, The Ladybugs, where she sings and plays snare drum & percussion. Vanessa currently lives in NYC and you can see her at jazz clubs all over NY, NJ & PA.
For more info visit www.vanessaperea.com
Robert Edwards came to New York by way of West Palm Beach, FL. Following his graduation from New Jersey City University in 2008, he obtained his Masters at The Juilliard School in 2010. He's the winner of the 2018 Detroit Jazz Festival's Curtis Fuller Low Brass/Trombone Competition, where was awarded with a performance slot on its Main Stage. Other professional highlights include tours with the Dizzy Gillespie Alumni All-Star Big Band and Roy Hargrove's Big Band.
He currently leads the Robert Edwards Big Band and Quintet around New York at clubs clubs such as Smalls, the Django, and Swing 46. He is currently professor of trombone and arranging at New Jersey City University and Queens College. As a leader/coleader, he has 2 albums to his name, including "Sound Business" (2010) and "Play Date" (2019). For more info visit www.robertedwardsmusic.net
Jonathan Michel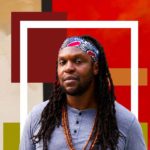 Born and raised in Waterbury, Connecticut Jonathan Michel is a bassist, composer and arranger of Haitian descent.    Michel is an eclectic artist known for his work as a producer and arranger, as well as performances all over the world. Some associated acts include Billy Paul, Laurin Talese, Soul Science Lab, Dominick Farinacci, Godwin Louis and Orrin Evans.    Based in New York City,( after a formative stint in Philadelphia in the 2000s) Michel released his debut album "MDR" on Imani Records in 2018.
Yuma Sung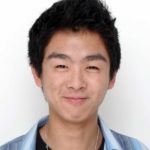 A recent graduate of the Manhattan School of Music, Yuma continues to grow as a performer and composer. He has been a member of the Grammy Jazz Ensembles, and the Disneyland All-American College Band, and has played with/for Oscar Peterson, David Benoit, Dave Brubeck, Patti Austin, Kirk Whalum, Jon Faddis, Gregg Field, Wayne Bergeron, and many more.
He's toured Japan numerous summers, with a CD released on Columbia Music Entertainment called Yuma Style. As a composer/arranger, he received the ASCAP Foundation Fran Morgenstern Davis Scholarship Award – an award given to two music compositions students at the Manhattan School of Music who show great produce in producing original work.
He has had the opportunity to be a part of the MetropoleOrchestra Arrangers Workshop; working with the orchestra, Vince Mendoza, and Roberta Gambarini. He just graduated from the 2 year Master's Degree in Film Scoring at New York University and he has scored several films with directors from Columbia and the School of Visual Arts.
Sam Newsome
New York-based saxophonist and composer Sam Newsome often works in the medium of solo saxophone, an approach for which he gained world-wide critical acclaim with his 2009 recording, Blue Soliloquy: Solo Works for Soprano Saxophone. This recording received a five-star review in Downbeat magazine.
"Newsome expands the sound of a single soprano into a one-man band," writes Mark Corroto.
Many of the notes and sounds that comprise his compositions and improvisations stem from his sound palette of extended techniques. Newsome often prepares the soprano saxophone using tube extensions that he builds that significantly changes the timbre of the instrument as well as extends the soprano's range by an octave or two. Newsome sees himself more along the lines of a visual artist who paints with notes and sounds rather than shapes and colors.
"Newsome cuts around the edges of the soprano's fundamentally sweet sound to mimic double-reed instruments from the Middle East, the native singing of Mongolia, bamboo flutes from the Orient," says Nick DeRiso.
In 2016, Newsome received the prestigious NYFA Fellowship for Music Composition. And in 2018, he received the New Music USA Grant and The Alpert/Ragdale Prize in Music Composition.
Newsome has released seven critically acclaimed solo saxophone CDs: –
– Chaos Theory: Song Cycles for Prepared Saxophone (2019);
– Sopranoville: Works for Prepared and Non-Prepared Saxophone (2017);
– The Straight Horn of Africa (2014);
– The Solo Concert: Sam Newsome Plays Monk and Ellington (2013);
– The Art of the Soprano, Vol. 1 (2012).
Ed Enright called The Straight Horn of Africa, "a modern masterpiece."
In addition to his solo work, Newsome leads a trio with Hilliard Greene and Reggie Nicholson, is a frequent collaborator with drummer Andrew Cyrille, vocalist Fay Victor, and tours regularly with Pepperland, a music and dance work by Mark Morris and Ethan Iverson that pays tribute to The Beatles.
Alexander Claffy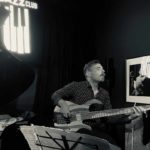 From birth, Alexander Claffy was raised in a musical household (his father is a pianist, his mother, a vocalist), and had many of his earliest lessons on bandstands in the heart of Philadelphia. As a teenager, Claffy was fortunate enough to find a mentor in many Philly natives, and has continued his study of the double bass with some of the world's finest musicians, including Ron Carter, Dwayne Burno and Orin O'Brien. Since moving to New York City in 2011, he has had the honor of working with many of his living heroes, including Jimmy Cobb, Louis Hayes, Harold Mabern, Kurt Rosenwinkel, Christian Scott, Joey Alexander, Wallace Roney and many more.  In the past 3 years he has recorded for the Verve, HighNote, Positone, RopeADope and LaReserve record labels.