Description
Linda May Han Oh and Fabian Almazan
Based in New York City, Linda May Han Oh is a bassist/composer who has performed and recorded with artist such as Pat Metheny, Kenny Barron, Joe Lovano, Dave Douglas, Terri Lyne Carrington, Steve Wilson, Geri Allen and Vijay Iyer.
Originally born in Malaysia and raised in Perth, Western Australia, she has received many awards such as 2nd place at the BASS2010 Competition, a semi-finalist at the BMW Bass competition and an honorary mention at the 2009 Thelonious Monk Bass Competition.
Linda also received the 2010 Bell Award for Young Australian Artist of the Year and was the 2012 Downbeat Critic's Poll "Rising Star" on bass. She was voted the 2018 and 2019 Bassist of the Year by the Jazz Journalist's Association, as well as 2019 Up-and-coming Artist of the Year. Linda recently received a Jerome Foundation Fellowship, as well as the Chamber Music America New Jazz Works Grant for 2019. She also was voted 2019 Bassist of the Year in Hothouse Magazine and 2020 recipient of the Margaret Whitton Award.
She has had five releases as a leader which have received critical acclaim. Her most recent release "Aventurine" is a double quartet album, featuring string quartet and vocal group Invenio.
Linda has written for large and small ensembles as well as for film, participating in the BMI Film Composers Workshop, Sundance Labs at Skywalker Ranch and Sabrina McCormick's short film, "A Good Egg".
Fabian Almazan
Grammy-nominated Cuban-American pianist Fabian Almazan has developed a personal voice through the electric manipulation of the acoustic piano and has toured his music extensively as well as accompanied artists such as Terence Blanchard, Gretchen Parlato,  Mark Guiliana,  and Ambrose Akinmusire.
Almazan has composed for orchestra, chamber ensembles and for film – also performing on Spike Lee's "Miracle at St Anna" and the Kasi Lemmon's film "Harriet"
He is the founder of Biophilia Records, ensuring a continued dialogue of awareness concerning music and environmental justice.
Miles Okazaki
Miles Okazaki is a NYC based guitarist originally from Port Townsend, a small seaside town in Washington State. His approach to the guitar is described by the New York Times as "utterly contemporary, free from the expectations of what it means to play a guitar in a group setting — not just in jazz, but any kind." His sideman experience over the last two decades covers a broad spectrum, from standards to experimental music (Kenny Barron, John Zorn, Stanley Turrentine, Dan Weiss, Matt Mitchell, Jonathan Finlayson, Jane Monheit, Amir ElSaffar, Darcy James Argue, and many others). He was seen prominently with Steve Coleman and Five Elements from 2009-2017. As a leader Okazaki has released five albums of original compositions over the last 12 years and is an artist on the Pi Recordings label. He has also released a six album recording of the complete compositions of Thelonious Monk for solo guitar, published a book Fundamentals of Guitar with Mel Bay, has taught guitar and rhythmic theory at the University of Michigan for five years, and holds degrees from Harvard University, Manhattan School of Music, and the Juilliard School.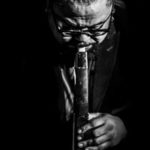 Dayna Stephens
Recent recipient of the number-one spot for the 2019 DownBeat Critics Poll in the category "Rising Star— Tenor Saxophone", Dayna Stephens has garnered critical acclaim over the years for his playing, compositions and arrangements. DownBeat's James Hale describes Gratitude, the saxophonist/composer's eighth release as a leader, as a "highly cinematic listening experience, full of roiling seas and shifting skies." Brad Faberman cites Dayna as the JazzTimes Editor's Pick, writing, "His big, warm lines are full of notes and intent but also gusts of wind, bodies of water." A review from JazzScene Magazine's Alex W. Rodriguez praises the record's distinctive personnel: "This album showcases some of today's finest musicians at the height of their craft, anchored by Stephens' humble magnetism. The musicians exude a patient, persistent quality in their collective exploration, with the melodies unfolding into searching improvisations throughout." Playing with pureness of intention, Dayna admits he's always searching to find what's "singable." That search often results in live improvisations and written compositions that challenge traditional concepts of harmony, pushing phrasing and sending beautiful and unintentional melodies in unlikely directions. Dayna's soulful lines have resonated through the halls of such internationally renowned venues as the Village Vanguard, Blue Note Jazz Club, Dizzy's Club Coca-Cola, Birdland, Yoshi's, The Blue Whale, Marians Jazzroom in Switzerland, Blue Note Milano, Philharmonie de Paris, Le Duc des Lombards, Red Rocks and San Francisco Jazz Center—and recently earned him Rhythmic dialogue excites the Brooklyn-born Bay Area-raised artist, as both an improviser and a written composer. His creative expression leads him to uncover different rhythmic interpretations of harmonic ideas as part of a spontaneous interchange with other players. These evolving interpretations help serve Dayna's commitment to authenticity of the moment, whether he's playing live or in the studio. And his rhythmic inquiry has earned him the attention and admiration of some of the music's most beloved drummers—many of whom have collaborated with him on recordings, on the bandstand and on the road, including Brian Blade, Al Foster, Idris Muhammad, Jeff "Tain" Watts, Billy Hart, Marcus Gilmore, Bill Stewart, Marvin "Boogaloo" Smith, Eric Harland, Matt Slocum, Johnathan Blake, Jaimeo Brown, Victor Lewis, Lewis Nash, Jorge Rossy, Jeff Ballard and Justin Brown. Dayna has traveled and recorded with a cross section of such distinctive voices, including pianists Brad Mehldau, Fred Hersch, Billy Childs, Geoffrey Keezer, Taylor Eigsti, Muhal Richard Abrams, Kenny Barron, Theo Hill, Gerald Clayton and Aaron Parks; trumpet players Roy Hargrove, Tom Harrell, Sean Jones, Terell Stafford, Brian Lynch, Ambrose Akinmusire and Michael Rodriguez; saxophone players Wayne Shorter, Jaleel Shaw, Ben Wendel, Chris Potter, John Ellis and Walter Smith III; bass players Ben Street, Rufus Reid, Kiyoshi Kitagawa, Joe Sanders, Linda Oh, Doug Weiss, Larry Grenadier and Harish Raghavan; vocalists Gretchen Parlato, Becca Stevens and Sachal Vasandani; and guitar players John Scofield, Julian Lage, Charles Altura, Mike Moreno, Lage Lund, Pete Bernstein and Carlos Santana.
Val Jeanty
Haitian born Val Jeanty is a Brooklyn based Afro-Electronic (VodouElectro) music composer, drummer and turntablist. Her installations have been showcased at The Whitney Museum, The Moma, The Lincoln Center in New York City and internationally at Jazz a la Villette (France) The Biennale (Venice) and SaalFelden Jazzfest (Austria).
2019 NYSCA fellowship recipient Val Jeanty has worked with a diverse array of artists including Anthony Braxton, Andrew Cyrille and the late great Geri Allen. Other highlights include "Fascinating Her Resilience" a Wesleyan University commissioned multimedia performance collaboration with professor Gina Ulysse and with Afro- Cuban bassist Yosvany Terry on his Grammy nominated album "New Throned King".
Ganavya Doraiswamy and Rajna Swaminathan
In this duo project, vocalist Ganavya Doraiswamy and percussionist Rajna Swaminathan interweave stories, prayer, and rhythm to create an enveloping, healing soundscape. Drawing on various threads of Indian music and the improvisational textures of creative music, they present a unique meditation on the alchemies of social and spiritual realms.
Rajna Swaminathan is an acclaimed mrudangam (South Indian percussion) artist, composer, and scholar. In her music and research, she explores the undercurrents of rhythmic experience and emergent textures in collective improvisation. Rajna's creative voice blossomed through a search for resonance and fluidity among multiple musical forms and aesthetic worlds. Her ensemble RAJAS, whose sound has been lauded as "unlike any other on the scene" (New York Times), has been a prominent medium for her expansive compositions, which involve a lattice of rhythmic, textural and modal approaches. Her debut album with RAJAS, Of Agency and Abstraction (Biophilia Records, 2019), has been described as "music of gravity and rigor… yet its overall effect is accessible and uplifting" (Wall Street Journal). In addition to her projects, Rajna performs extensively in ensembles led by Vijay Iyer, Amir ElSaffar, and Ganavya Doraiswamy, and has been active as a composer-performer for dance and theatre works. She is also active as an educator, most notably serving as faculty at the Banff International Workshop for Jazz and Creative Music in 2013 and 2018. Rajna holds degrees in Anthropology and French from the University of Maryland, College Park, and is currently pursuing a PhD in Music (Creative Practice & Critical Inquiry) at Harvard University.
Ganavya Doraiswamy is a critically acclaimed vocalist, scholar, and composer who has quickly amassed an incredible breadth of contemporary works. She holds degrees in psychology and theatre, and graduate degrees in performance (Berklee College of Music), ethnomusicology (UCLA), and creative practice and critical inquiry (Harvard). She has been featured on various projects, notably on the Quincy Jones produced Tocororo, which hit #1 on jazz charts. Hailed as "extraordinary" (DownBeat) and "most enchanting" (NPR), Ganavya's last album, Aikyam: Onnu was described in The New York Times as "majestic . . . a thick ephemera, like smoke as dark as ink, just coming off the fire."
Some recent works from the past year include beginning the Peter Sellars-directed Vimalakirti Sutra Chapter 7: The Goddess, a work composed for and by Ganavya to perform; Daughter of a Temple (2019), a composition for sound installation that draws from Alice Coltrane-Turiyasangitananda's Monument Eternal which premiered at the 13th Bienal de la Habana in Carrie Mae Weems's The Spirit that Resides, and Atlas Unlimited: Acts VII – X, a 64-hour performance telling the story of Zakaria Almoutlak, a Syrian refugee. Her most recent writing is a collection of 100 short essays for John Zorn's acclaimed Arcana: Musicians on Music series.