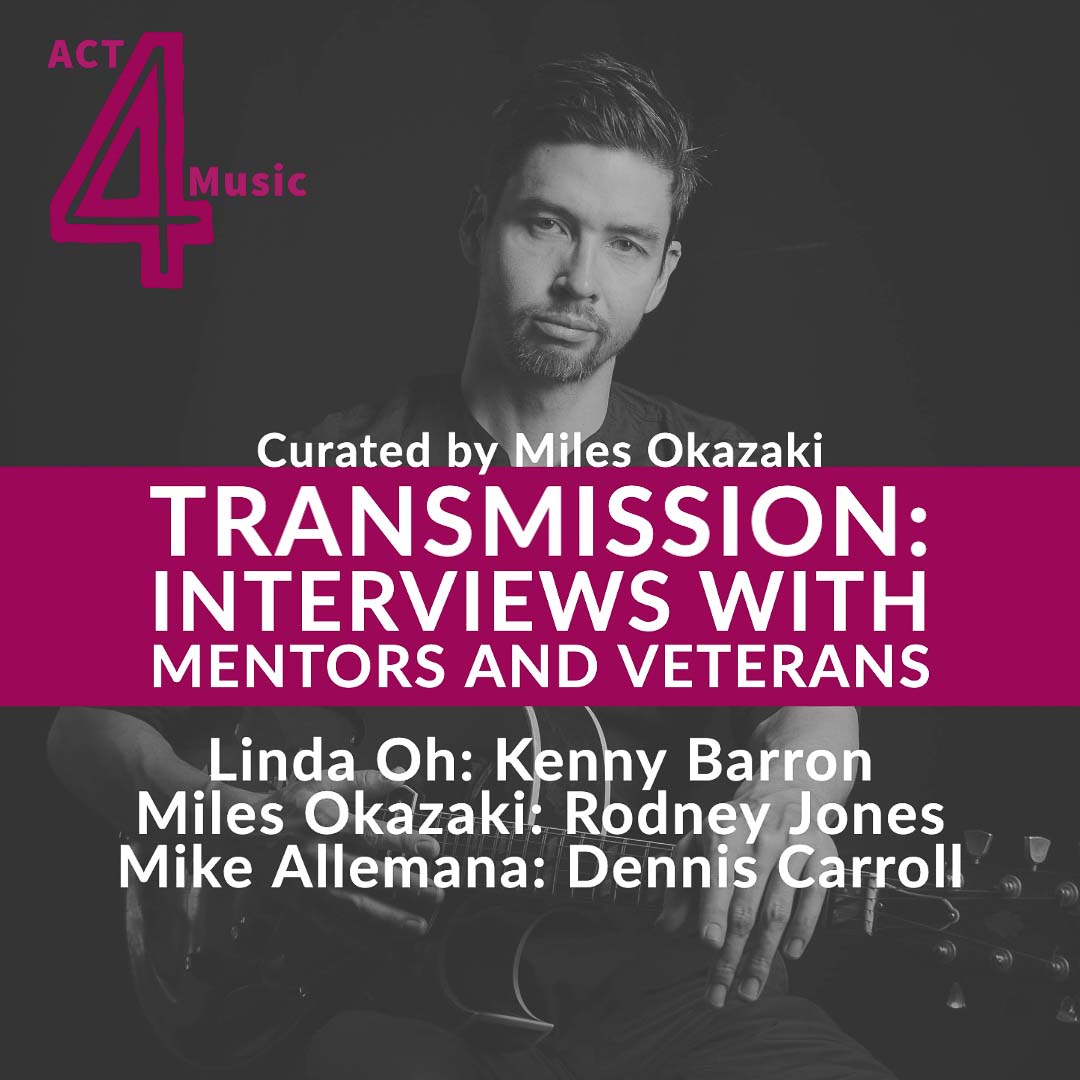 Local Time
Timezone:

Europe/Paris

Date:

May 05 2020

- May 06 2020
Transmission: Interviews with Mentors and Veterans
Miles Okazaki Interview Rodney Jones
Miles Okazaki is a NYC based guitarist originally from Port Townsend, a small seaside town in Washington State. His approach to the guitar is described by the New York Times as "utterly contemporary, free from the expectations of what it means to play a guitar in a group setting — not just in jazz, but any kind." His sideman experience over the last two decades covers a broad spectrum, from standards to experimental music (Kenny Barron, John Zorn, Stanley Turrentine, Dan Weiss, Matt Mitchell, Jonathan Finlayson, Jane Monheit, Amir ElSaffar, Darcy James Argue, and many others). He was seen prominently with Steve Coleman and Five Elements from 2009-2017. As a leader Okazaki has released five albums of original compositions over the last 12 years and is an artist on the Pi Recordings label. He has also released a six album recording of the complete compositions of Thelonious Monk for solo guitar, published a book Fundamentals of Guitar with Mel Bay, has taught guitar and rhythmic theory at the University of Michigan for five years, and holds degrees from Harvard University, Manhattan School of Music, and the Juilliard School.
Linda May Han Oh Interview Kenny Barron
Based in New York City, Linda May Han Oh is a bassist/composer who has performed and recorded with artist such as Pat Metheny, Kenny Barron, Joe Lovano, Dave Douglas, Terri Lyne Carrington, Steve Wilson, Geri Allen and Vijay Iyer.
Originally born in Malaysia and raised in Perth, Western Australia, she has received many awards such as 2nd place at the BASS2010 Competition, a semi-finalist at the BMW Bass competition and an honorary mention at the 2009 Thelonious Monk Bass Competition.
Linda also received the 2010 Bell Award for Young Australian Artist of the Year and was the 2012 Downbeat Critic's Poll "Rising Star" on bass. She was voted the 2018 and 2019 Bassist of the Year by the Jazz Journalist's Association, as well as 2019 Up-and-coming Artist of the Year. Linda recently received a Jerome Foundation Fellowship, as well as the Chamber Music America New Jazz Works Grant for 2019. She also was voted 2019 Bassist of the Year in Hothouse Magazine and 2020 recipient of the Margaret Whitton Award.
She has had five releases as a leader which have received critical acclaim. Her most recent release "Aventurine" is a double quartet album, featuring string quartet and vocal group Invenio.
Linda has written for large and small ensembles as well as for film, participating in the BMI Film Composers Workshop, Sundance Labs at Skywalker Ranch and Sabrina McCormick's short film, "A Good Egg".
Mike Allemana interview Dennis Carroll
Mike Allemana is a jazz guitarist in Chicago. He performed from 1997–2012 in saxophonist Von Freeman's quartet at his legendary Tuesday night jam session at the New Apartment Lounge.
He has also recorded with Von Freeman, including the 2002 release The Improvisor on Premonition Records. In 2013, he and guitarist George Freeman formed an organ quartet that features Pete Benson on organ and drumming legend Bernard Purdie, a band which in 2017 released their first album Live at the Green Mill on Ears&Eyes Records. In 2020, Mike will be releasing Vonology, a five-movement piece for improvisers that explores Von Freeman's musical, communal, and spiritual contributions to the Chicago scene. Mike will also be finishing a dissertation in June 2020 at the University of Chicago that researches the rich history of South Side jazz clubs. Starting in the fall of 2020, he will be a Humanities Teaching Fellow at the University of Chicago.
Dennis Carroll started playing bass professionally at age 17 out of Poplar Grove, IL. Dennis was taught by Mike Barnett, a great bassist and great friend. Since 1990, he has been the bassist for guitarist Bobby Broom's trio with whom he has toured internationally and is featured on several of Broom's releases including Stand and Plays for Monk. Dennis has performed with artists such as Ron Blake, Ira Sullivan, Russ Long, John Scofield, and regularly works and records with Pharez Whitted, Ron Perrillo, Pat Mallinger, and John Wojciechowski. He is currently collaborating with vocalist Alyssa Allgood for her new upcoming release.