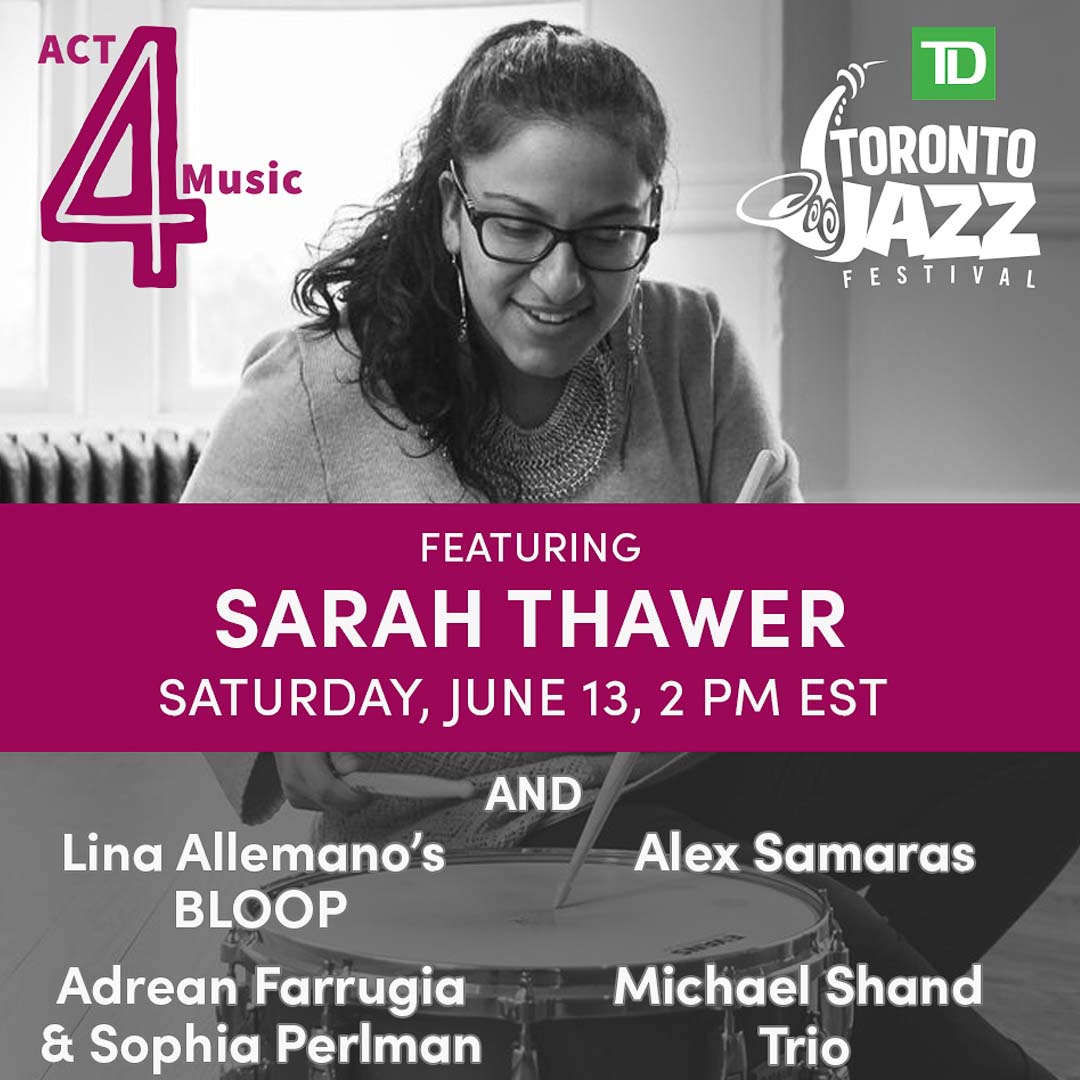 Local Time
Timezone:

America/New_York

Date:

Jun 13 2020

Time:

2:00 PM
TD Toronto Jazz Festival
TD Toronto Jazz Festival
The TD Toronto Jazz Festival has become known as one of North America's premier jazz festivals. Produced annually by Toronto Downtown Jazz, a Canadian registered charity, the Festival began in 1987 as an eight day showcase of jazz and now attracts in excess of 500,000 loyal patrons annually over 10 days as more than 1,500 musicians entertain all across the city. The Festival has become a destination event, not just for music lovers but for some of the greatest jazz celebrities in the world, reinforcing its reputation as a leader in artistic excellence and outstanding production standards.
For this special concert, Toronto Downtown Jazz Artistic Director Josh Grossman has selected a group of musicians who represent some of the outstanding variety of jazz created year-round in Toronto. All have performed at the TD Toronto Jazz Festival, and some were slated to perform this year. They each come to jazz from their own unique perspective, and they represent some of the best musicians in Toronto – they are all first call performers and educators, and have all made a mark on the local, national and international jazz scenes. From "free" jazz to unconventional vocal technique; drumming pyrotechnics to more straight-ahead sounds; these musicians represent the exciting diversity of Toronto jazz.
Josh Grossman
Artistic Director
Sophia Perlman
"Perlman's approach is all at once soulful, gut-wrenching, funky and provocative" -Lesley Mitchell-Clarke, The WholeNote Magazine
Vocalist Sophia Perlman has become a fixture of the Ontario jazz and blues scene. Her musicality, old-soul voice and skill as an improviser have made her a first call featured singer with some of the top ensembles and musicians in the country.
Early choral training, and a knack for picking out harmony nurtured a deep love for singing with others, and Sophia can often be found collaborating with other vocalists – including Matt Dusk, Terra Hazelton, Julie Michels, Alex Samaras and Tyler Yarema.
Her most recent recording Sophia Perlman & Adrean Farrugia: Alive at Musideum was released in 2012. She is also heard on numerous other
Adrean Farrugia
"…Farrugia proves himself to be one of the current scene's most imaginative pianists." -Nic Jones, ALL ABOUT JAZZ.COM
Adrean Farrugia began playing piano at the age of 12. By age 16 he decided that he would dedicate his life to music. Since then he has become recognized as one of Canada's finest pianists and composers, having shared the music he loves globally with audiences across Canada, the United States, London UK, Paris, Tokyo, Tel Aviv, Australia, Poland, and The Netherlands. Adrean has played on more than 40 albums to date garnering 4 Juno award nominations, 1 Juno award, and 1 Grammy shortlist recognition. Adrean believes that music has the power to both heal and inspire both the performer and the listener, as well as revealing a higher sense of being which exists in all people, and it is this belief that drives his continued journey and commitment to musical growth.
Lina Allemano
LINA ALLEMANO is a Canadian trumpeter, composer, improviser and band leader with an active international career, performing and recording cutting-edge contemporary music primarily in improvised, jazz and experimental settings. Allemano splits her time between TORONTO and BERLIN and is recognized as one of the leading innovative trumpeters on the scene today. She is busy collaborating all across the globe with a long and ever-expanding list of important international artists, as well as running her own label LUMO RECORDS and leading multiple diverse and groundbreaking projects including OHRENSCHMAUS, LINA ALLEMANO FOUR, TITANIUM RIOT, BLOOP, and her SOLO TRUMPET project.
BLOOP
is LINA ALLEMANO (trumpet) & MIKE SMITH (live-processing / effects). BLOOP creates a dreamlike sound world of trumpet-driven electronics through a fascinating and complex real-time feedback loop of improvisation and effects that bounce back and forth simultaneously between Allemano and Smith. Their music is both melodic and gestural. Original source sound-material is generated by Allemano's acoustic trumpet and is live-processed with effects by Smith. Along with melodic fragments, Allemano creates unusual (but purely acoustic) sounds on the trumpet using extended techniques and self-made mutes (sounds which are, ironically, often mistaken for electronic effects). Both improvisers are responding to and interacting with each other in tandem, blurring the line between acoustic and electric sounds. This creates a stimulating space in which to use their real-time improvised feedback-loop process to generate intriguing, spontaneous compositions. Website: https://linaallemano.com
Alex Samaras
Alex Samaras is a singer,  performer and educator in Toronto. He sings with The Queer Songbook Orchestra, his solo project TRYAL, his vocal ensemble Grex and has recently toured Europe with Beverly Glenn-Copeland.  He has created roles in musicals and operas including Luminato's "The Cave" by Thompson Highway and John Millard, Crow's Theatre "The Man Who Married Himself" by Juliet Palmer and Anna Chatterton and he can be seen next in Claude Vivier's "Musik Für Das Ende" with Soundstreams. Alex has worked across North America leading singing workshops and conducting choirs of all ages. He has also taught at the University of Toronto and Humber College Jazz programs and National Music Camp. Alex has worked with Ame Henderson on her pieces "Noisy" and "Ring" and with Christopher House on "Persefony Songs". He studies movement with Susan St. Claire and Christine Wright in Toronto.
Michael Shand
30 years of performance worldwide has earned Michael Shand his place in the upper echelon of keyboardists in Canada. His musicality is rooted strongly in jazz, having been immersed in it in the home since birth. He went on to study jazz at York University in Toronto where he was recipient of the Oscar Peterson Scholarship Award. However it is his musical diversity that he is most known for which has made him a first-call for many artists across many genres. Shortly after leaving York University at age 22, Michael was pianist and musical director for the quintet Kollage, which featured Archie Alleyne and Dougie Richardson, pillars of Canada's jazz community. Since then, he has played with many of Canada's top-tier artists; Molly Johnson, Natalie MacMaster and Donnell Leahy, Jackie Richardson, Matt Dusk, Heather Bambrick, Divine Brown, Jully Black, Jarvis Church, Haydain Neale of Jacksoul, Pee-Wee Ellis (James Brown Band), Roy Hargrove, Gregory Hutchinson, Kelly-Lee Evans, Sophie Milman, Sacha Williamson, Kardinal Offishall, Maestro Fresh Wes, PARTYNEXTDOOR (member of Drake's OVO camp),  Eric Benet, Julie Crochetiere, Kreesha Turner, Anjulie, Glass Tiger, Bill Henderson (Chilliwack), Jim Cuddy (Blue Rodeo) and Canadian country and soul sensation, Johnny Reid for whom he has served as keyboardist & musical director for nearly a decade. Michael has also released an album called "Patience For Life" which features Larnell Lewis (Snarky Puppy), Ross MacIntyre, Kelly Jefferson, Kevin Turcotte and more.
Sarah Thawer
Sarah Thawer is a JUNO-Award nominated drummer based in Toronto, Canada. She started playing drums at age 2 and her first stage performance was at age 5.
She is currently touring, recording and performing with international artists playing a wide range of genres from jazz and fusion all the way to indian, latin, funk, r&b and hip hop.
Sarah is a self-taught drummer and later decided to study jazz and world music at York University. She was the recipient of the Oscar Peterson Scholarship, the highest award given by the institution, in addition to graduating with the Summa Cum Laude distinction.
Sarah has shared the stage and played with various artists including: George Watsky, AR Rahman, Mark Lettieri, Sekou Bunch, Jane Bunnett, Thompson Egbo-Egbo, Gabriel Palatchi, Del Hartley, Charlotte Day Wilson, Osman Mir, Ruth B., Vijay Prakash, Benny Dayal, Jon Batiste at NPR's Tiny Desk, Tegan and Sara on The Late Show with Stephen Colbert, Robert Sput Searight and Ghost Note to name a few.
Sarah endorses Yamaha Drums, Zildjian Cymbals, Vic Firth Drum Sticks, Evans Drumheads, Sunhouse/Sensory Percussion, 64 Audio, Gruv Gear and ProLogix Percussion.