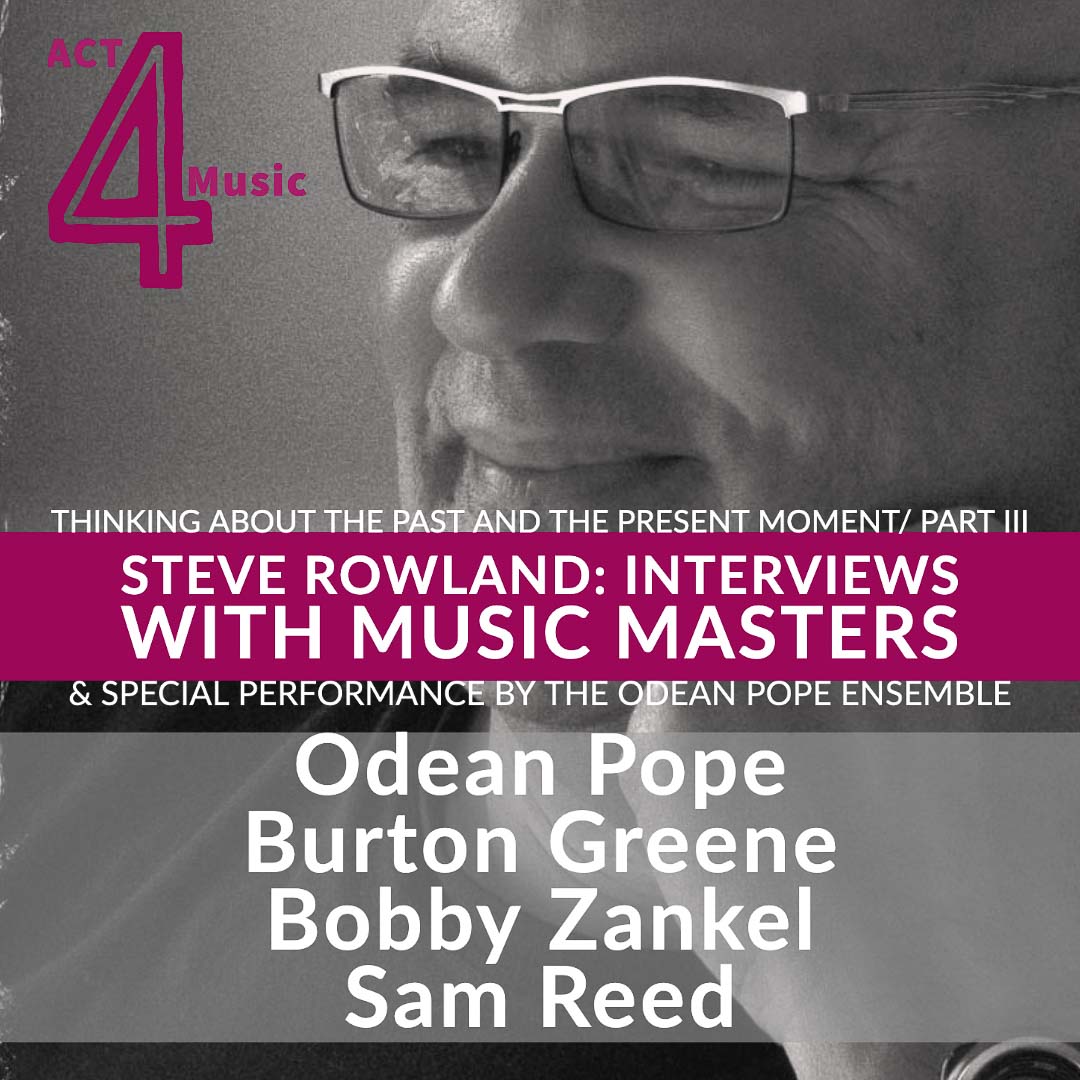 Local Time
Timezone:

America/New_York

Date:

Jun 12 2020

Time:

2:00 PM
Thinking About the Past and the Present Moment Part III
Steve Rowland: Interviews with Music Masters
Steve Rowland has spent a career using music, theater and art as windows to explore issues in American history, society, race relations, human creativity, spirituality, aesthetic beauty, the nature of change and human possibility.  He is one of the most accomplished music documentarians in the United States. Rowland has produced over 50 hours of radio documentary work since 1987. All of his projects are based on extensive oral histories. He produced the 11-hour documentary "Leonard Bernstein: An American Life" which is narrated by Susan Sarandon. It is based on over 100 exclusive interviews Rowland conducted with colleagues of Bernstein and mountains of archival material.
Rowland has interviewed hundreds of musicians, artists and other thinkers, including Bob Marley,  Cornel West, Fela Ransome Kuti, Art Blakey, Sonny Rollins, Max Roach, Quincy Jones, Wayne Shorter, Tony Williams, Sun Ra, Elvin Jones, Big Youth, Betty Carter, Lester Bowie, Cachao, Smokey Robinson, Dionne Warwick, Stephen Sondheim, Oliver Lake, Mstislav Rostropovich, John Lee Hooker, Carlos Santana, Ahmet Ertegun, Leslie Uggams, Marin Alsop, Comden & Green, George Clinton, James DePriest, Kathleen Battle, Flea, Manning Marable and many, many others.
Odean Pope
Odean Pope is a prolific composer, arranger, multi-instrumentalist, and educator. His musical training and maturation began in Philadelphia, where he was part of an "inspired circle" of jazz innovators that included John Coltrane, Benny Golson, Jymie Merritt, Hasaan Ibn Ali, McCoy Tyner, the Heath Bros., and others. His distinctive voice on the tenor saxophone and composing aesthetic continually extend and refresh compositional and improvisational ideas/ approaches that draw on that fertile musical environment, as well as resonate with his experience in the African American church and playing with noted R&B artists, and 22 years of being tenor man with Max Roach. His compositional practice is also influenced by formal academic studies in woodwind technique, orchestration, modern harmony and arranging. Pope expresses his compositional prowess through various-sized ensembles—-trios, quartets, sextets, octets, and his saxophone choir composed of nine saxophones and a rhythm section. Jazz writer Francis Davis described Pope's compositions as being "harmonically engorged". He continues to perform, lead workshops and give master classes frequently and globally. His extensive discography includes 22 recordings as leader, and an additional 2 dozen as a side man (including 9 with Max Roach) or collaborating/guest artist. Among his numerous awards and recognitions are a Pew Fellowship in the Arts for Music Composition, the 2017 Mid-Atlantic Arts Living Legacy Jazz Award, and in 2018, a project grant from The Pew Center for Arts & Heritage to support his year-long, multi-dimensional project Sounds of the Circle.

Narada Burton Greene
Composer, Pianist, Arranger, Author.
Originally from Chicago, he began his long career of many recordings and performances in New York´s legendary jazz scene of the 1960's.  He and bassist Alan Silva contributed to the beginnings of free jazz in New York with the formation of their Free Form Improvisation Ensemble in 1963. The group was invited to join The Jazz Composers Guild initiated by Cecil Taylor and Bill Dixon. It also led to work with the great saxophonists Albert Ayler and Giuseppe Logan.
Greene also co-founded the East West Trio with Indian sitarist Jamaluddin Bhartiya  and percussionist Daoud Amin in 1973, one of the first World Music groups. Since that time he has been based in Amsterdam, Netherlands and has travelled all over Europe and the USA with performances and recordings of his compositions and arrangements in many different types of music styles and ensembles.
As Greene says it:  "Music is or should be universal, without limits.. Borders eventually become boring.. they should be transcended.  I like all kinds of music as long as it´s not dull or repetitious or superficial.. as long as it´s creative and from the heart."  His 14 piece New Age Jazz Chorale (1975-78) did concerts and recordings in Holland and Europe, years before most other groups were termed as "New Age".   In the last 30 years he has been busy with his klezmer, Sephardic, Balkan, jazz ensembles Klezmokum and Klez-Edge, and various jazz and improvised music solo, trio or quartet combinations. Klezmokum has had 6 CD releases on Willem Breuker's record label BV Haast in Amsterdam.  He also has a solo orchestral electronics program, teaches jazz, world music workshops, and lectures.
His autobiographical book written over 20 years: "Memoirs of A Musical Pesty-Mystic" appeared in print in 2001 (Cadence Jazz Books). His solo piano recording for Drimala Records: "Live At Grasland" was voted one of the top 10 CD releases in All About Jazz (2005).   His groups in New York and recorded on CIMP Records include a duet with bassist Mark Dresser, a quartet with trumpeter Roy Campbell, Lou Grassi, and Adam Lane.  Concerts and recordings also on the CIMP label are his trio with Ed and George Schuller on bass and drums, and a quintet with the Schuller brothers, Russ Nolan on saxes and flute, Paul Smoker on trumpet.
Greene's solo piano CD "Retrospective 1961–2005 came out in January, 2007 on the CIMP label.  Burton's group, a quintet: Klez-Edge had a CD Release in May, 2008: "Ancestors, Mindreles, NaGila Monsters" is on John Zorn's Tzadik CD label in New York.  Also Released on the Tzadik label in June, 2009 is the intimate duo CD: "Two Voices in the Desert" with Burton's long time colleague and Klezmokum clarinetist Perry Robinson.
Burton's music is featured on more than 90 recordings: records and CD's.  This year he celebrates 58 years as a professional, presenting his music to the world.
burtgreene@gmail.com    www.burtongreene.com     www.klezmokum.com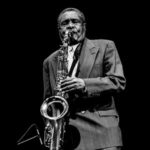 Sam Reed
Saxohonist Sam Reed has been a leading member of the Philadelphia jazz and music scene for over 60 years.  Born in 1935 in Kinstree, SC, Sam and his family were part of the great migration north that many African Americans took from the south looking for better opportunities for their families. Sam attended the legendary Mastbaum Vocational and Technical School, which boasted a great music program, and includes Lee Morgan, Ted Curson and Buddy DeFranco as some of its other alums. He was inspired to play music by Albert "Tootie" Heath, the youngest of the Heath Brothers.
In 1963, Sam became the music director at Philadelphia's famous Uptown Theater. He also did many sessions for Gamble and Huff's Philly International Records and spent many years working with Teddy Pendergrass. He also has been a long time member of Odean Pope's Saxophone Choir.   Bootsie Barnes, Mickey Roker and Jimmy Oliver are among the other Philadelphia-based musicians with whom he has performed. In 2012, he received the Jazz Journalists Association's annual Jazz Heroes Award.
Bobby Zankel
Composer and alto saxophonist Bobby Zankel never expected to stay in Philadelphia when he blew into town in 1975. "I thought it was going to be temporary. I didn't think I was going to stay here. I wanted to get back to New York as soon as I could." Laughing, he said, "…I thought it was punishment from the gods at the time."
A few years before the move, this young musician from Brooklyn had gotten the attention of the jazz world through his membership in pianist Cecil Taylor's "Unit Core Ensemble." Zankel's underground status in New York's famed free jazz loft scene grew in 1973 as he performed with bassist William Parker, creator of the annual Vision Festival; trombonist Ray Anderson, drummer Andrew Cyrille, and saxophonist David Spencer Ware, as Zankel continued his apprenticeship with Taylor's ensembles large and small. 
But family concerns soon took him away from the heady atmosphere of that experimental scene and he landed squarely in our hard bop town. Instead of a backwater, Zankel quickly discovered Philly represented a challenge, and it changed his life.
"As soon as I got here, people were really, really nice to me, and things would just happen that made me feel really happy about being here. I got the chance to play in a variety of situations, different types of music. In New York, the city was so compartmentalized. I was part of Cecil Taylor's world. But I wanted to do other things. Almost as soon as I got here, I started playing with Odean Pope and taking piano lessons with Eddie Green. I finally hooked up with Dennis Sandole. I'd always see guys from New York taking the train down to study with Dennis, and I'd think, 'why should I go back to New York and then take the train back down here all the time?'  Dennis was intense and his approach became my life. The next thing I knew 40 years went by."
Bobby Zankel's alto saxophone playing, a soulful mixture of hard bop and free jazz, and his compositional work has received commissions from the Network for New Music, Relache, and more recently Jazz Bridge's Vision Song for the Philadelphia International Festival of the Arts. Zankel has won a fellowship from the Pew Center of Arts & Culture and has produced nine albums that have included many Philadelphia jazz artists.  In 2001, Bobby Zankel created the Warriors of the Wonderful Sound, an organization dedicated to promoting new jazz through big band music, and this ensemble has collaborated with composer Muhal Richard Abams, saxophonists Steve Coleman and Dave Liebman, and hosted multi-instrumentalist Don Byron, and tenor saxophonists David Murray, Jaleel Shaw, and Odean Pope.
In 2018, Bobby Zankel was celebrated with Philly's "Jazz Living Legacy" award and the Philadelphia Clef Club's "People Choice" pick for top alto saxophonist. In addition to all his work with the glittering lights of some of the world's best musicians, Bobby Zankel has devoted 30 years working with and sharing musical ideas with Pennsylvania prison inmates. 
"I love Philadelphia. I really feel honored and blessed to be here. I got to play alongside Johnny Coles. I even got to play with Hank Mobley! I've had a 45-year old relationship with Odean Pope as well as seen young musicians come up through the Clef Club like Jaleel Shaw and Emmanuel Wilkins. Those kinds of opportunities would not have come up in New York."