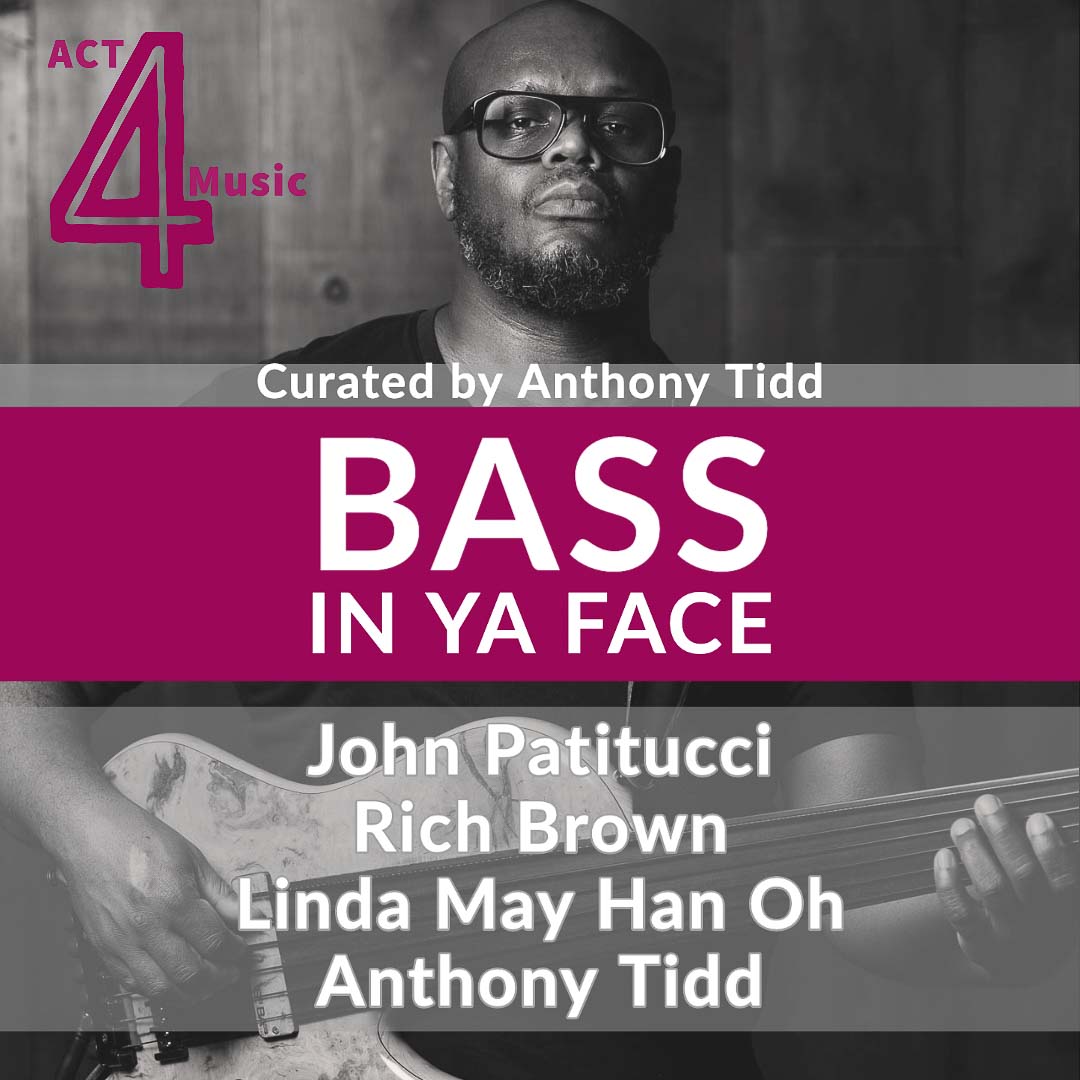 Local Time
Timezone:

America/New_York

Date:

Jun 12 2020

Time:

2:00 PM
Bass in Ya Face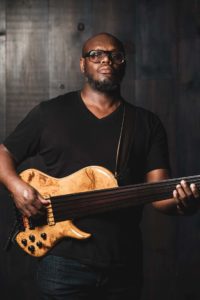 Anthony Tidd
A Philly transplant, and the child of Trinidadian parents, Anthony Tidd was born and raised in London, England. Over the next eighteen years Anthony attended the Newham Academy of Music (U.K), Guild Hall (U.K), Thurrock College of Music (U.K), and Goldsmiths University (U.K), but (in his opinion) his true music education took place during his 24 year (and counting) stint with jazz alto saxophonist and MacArthur genius, Steve Coleman. As an international touring bassist, Tidd has had the pleasure of working with a number of celebrated names, including Steve Coleman, Greg Osby, Ravi Coltrane, Vijay Iyer, Kindred, Wayne Krantz, Talib Kweli, Rudresh Mahanthappa, Meshell Ndegeocello, Common, Jill Scott, De La Soul, David Byrne, The Roots, Gangstarr, Frank Ocean and many others. As an accomplished composer/band leader Anthony released his critically acclaimed album, Quite Sane – The Child of Troubled Times in 2002, and has written and recorded works for everything from small ensembles, to big bands, and even full orchestras. As a Grammy Award winner Tidd has also recorded and produced a number of records for multiplatinum artists such as, The Roots, Macy Gray, Zap Mama, Lady Gaga, The Black Eyed Peas, Fergie, Pink, Jill Scott, Ursula Rucker, etc, as well as composing scores for major film and television projects, most recently including Jay Z's Paramount/BET docuseries, Rest in Power – The Trayvon Martin Story. As an educator, and long standing member of the M-BASE collective, Anthony has taught and presented masterclasses at a number of prestigious institutions including New York University, Temple University, The New School, University of Chicago, University of California, San Diego, University of California, Los Angeles, Banff Center (Canada), Berklee College of Music, New England Conservatory, Engelsholm (Denmark), The Pavoritti Center (Bosnia), The Lincoln Center, Durban University (South Africa), Paris Conservatory (France), The London South Bank (U.K), The Royal College of Music (U.K), and many others. He is also a master lecturer at the University of the Arts in Philadelphia. Tidd is the creator/director of the Creative Music Program, Jazz Camp of Philadelphia, as well as curator of Meet the Masters, and popular Philly concert series Sittin' In, all at the prestigious Kimmel Center for the Performing Arts, where he currently serves as the Jazz Artistic Advisor. Anthony, the Creative Director of ACT4Music, now divides his time between all of the above, living between Harlem and Philadelphia, whilst saving time to compose, and educate the next generation of musical talent.
John Patitucci
Acoustic and electric bassist John Patitucci has been at the forefront of the jazz world for the last 30+ years and active in all styles of music. He is a 4-time Grammy award winner, has been nominated over twenty times and has played on many other Grammy award-winning recordings. He has performed and/or recorded with jazz giants such as Dizzy  Gillespie, Wayne Shorter, Herbie Hancock, Chick Corea, Stan Getz, Freddie Hubbard, Roy Haynes, Wynton Marsalis, Michael Brecker, Kenny Garrett, Victor Feldman, Nancy Wilson and countless others. John has also performed and/or recorded with pop artists such as Natalie Cole, John Mayer, Alicia Keys, Joni Mitchell, Bono, Sting, Norah Jones, James Taylor and Paul Simon.
He has been active as a composer with sixteen solo recordings of his own, and has been commissioned to write for various chamber music groups. John has performed as a soloist with the Swedish Chamber Orchestra, the Estonian National Symphony, the Scottish Chamber Orchestra, the Trondheim Symphony of Norway, the St. Louis Symphony and the London Symphony Orchestra. In early 2020, John's composition, a protest piece entitled Hypocrisy, will be premiered in Toronto and performed by the Royal Conservatory Orchestra, along with Danilo Perez, Brian Blade and Mr. Patitucci.
Mr. Patitucci has been involved in education for many years, writing books, making instructional videos and giving master classes around the world. John was formerly the Artistic Director of The Bass Collective, a specialized school in New York, and a Professor of Music at The City College of New York from 2002-2012. He is currently Visiting Scholar at Berklee College of Music's Global Jazz Institute, and launched his interactive online bass school through ArtistWorks (artistworks.com).
After touring with the award-winning Wayne Shorter Quartet for over 20 years, John will continue to tour with his own projects, including the John Patitucci Electric Guitar Quartet, as well as the Children of the Light Trio, the Chick Corea Elektric Band Akoustic Bands, and a special collaboration with the Harlem String Quartet as a composer and a performer. John's 16th recording, a solo bass album entitled Soul of the Bass was released earlier in 2019. John is currently nominated for a 2019 Grammy Award for Best Latin Jazz Album.
Rich Brown
Canadian born Toronto based musician Rich Brown has established himself internationally as an influential electric bassist, an award winning bandleader/composer, and an esteemed educator. All About Jazz called Brown "one of the finest electric bassists you'll hear anywhere", and The Los Angeles Times stated, "Brown moves with the fluid ease of an acoustic guitarist". He has released 3 albums as a leader, and appears as a sideman on a plethora of recordings ranging from Jazz to Funk to traditional Arabic and Asian music. Brown has performed with a wide variety of artists including Rudresh Mahanthappa, Steve Coleman, Angelique Kidjo, Kurt Elling, Kim Mitchell, James Blood Ulmer, The Parachute Club, and David Clayton Thomas (Blood, Sweat, & Tears) to name just a few. He also leads his own groups— rinsethealgorithm and The Abeng—and was nominated for a Juno Award in 2016 in the category of Jazz Album of the Year: Solo for his latest album 'Abeng'.
Linda May Han Oh
Based in New York City, Linda May Han Oh is a bassist/composer who has performed and recorded with artist such as Pat Metheny, Kenny Barron, Joe Lovano, Dave Douglas, Terri Lyne Carrington, Steve Wilson, Geri Allen and Vijay Iyer.
Originally born in Malaysia and raised in Perth, Western Australia, she has received many awards such as 2nd place at the BASS2010 Competition, a semi-finalist at the BMW Bass competition and an honorary mention at the 2009 Thelonious Monk Bass Competition.
Linda also received the 2010 Bell Award for Young Australian Artist of the Year and was the 2012 Downbeat Critic's Poll "Rising Star" on bass. She was voted the 2018 and 2019 Bassist of the Year by the Jazz Journalist's Association, as well as 2019 Up-and-coming Artist of the Year. Linda recently received a Jerome Foundation Fellowship, as well as the Chamber Music America New Jazz Works Grant for 2019. She also was voted 2019 Bassist of the Year in Hothouse Magazine and 2020 recipient of the Margaret Whitton Award.
She has had five releases as a leader which have received critical acclaim. Her most recent release "Aventurine" is a double quartet album, featuring string quartet and vocal group Invenio.
Linda has written for large and small ensembles as well as for film, participating in the BMI Film Composers Workshop, Sundance Labs at Skywalker Ranch and Sabrina McCormick's short film, "A Good Egg".