ACT4Music
ACT4Music, or Advancing Creative Transformation for Music is an artist-centric organization dedicated to the furthering of creative music and the uplift of the many musicians who contribute to this community.
Launching Today!
See who's on stage. Remember, once a concert has launched tickets remain available for purchase until the festival ends.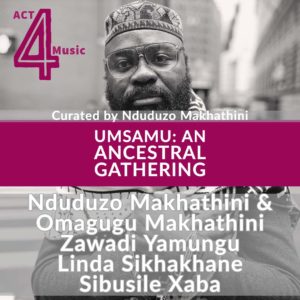 Umsamu: An Ancestral Gathering is an event curated by Nduduzo Makhathini featuring South Africa musicians Nduduzo Makhathini and Omagugu Makhathini, Zawadi Yamungu, Linda Sikhakhane, Amaeshi Ikechi, Tumi Mogorosi, Sibusile Xaba.
...
No event found!
ACT4Music Fest. is an 8 week online music festival, featuring specially curated from home video music performances, by both well-established favorites and vibrant new voices on the creative music scene.
This festival will seek to provide quarantined cities all over the planet with daily opportunities to hear great performers do what they do best, while providing music loving audiences everywhere with a simple way to support the creative music community during this time of need.
All shows will be specifically pre-recorded for ACT4Music Fest., which will be a true high level festival from a distance, with the world as its audience. 
Our goal will be to bring the creative music community together, by featuring a wide range of shows, selected by many curators, highlighting a diverse selection of artists.
The ACT4Music Fest model is structured to provide artist-centric compensation, both in terms of ticket sales from shows, and in the form of a series of ACT4Music-Grants, intended specifically to help artists.
We seek to provide affordable access for all, while putting as much money as possible directly into the hands of participants; the artists, curators, and organizers, whose goal will be to pull together 4 amazing shows a day, 6 days a week, for 8 weeks, for a total of 192 performances!
Browse our festival schedule to see what launched today, what's coming up, and to view past days
MO

TU

WE

TH

FR

SA

SU
27

28

29

30

1

Infinite Blooms

All Day

Linda May Han Oh and Fabian Almazan

Based in New York City, Linda May Han Oh is a bassist/composer who has performed and recorded with artist such as Pat Metheny, Kenny Barron, Joe Lovano, Dave Douglas, Terri Lyne Carrington, Steve Wilson, Geri Allen and Vijay Iyer.

Originally born in Malaysia and raised in Perth, West

, ...

2

Robitussin

2:00 PM

Immanuel Wilkins

Immanuel Wilkins is a Saxophonist, Composer, Arranger, and Bandleader from the greater Philadelphia-area. While growing up, he honed his skills in the church and studied in programs dedicated to teaching jazz music like the Clef Club of Jazz and Performing Arts. Moving to New York in 2015, Immanuel pro

, ...

3
4

Barcelona Road Crossing

2:00 PM

AURELIO SANTOS

Curator for Barcelona Road Crossing.

For the last 30 years I have been deeply involved in the cultural and musical scene writing stuff, making websites, booking hundreds (perhaps thousands…) of artist worldwide, taking tones of pictures (specially analog…), attending to thousands of shows, spending t

, ...

5

Transmission: Interviews with Mentors and Veterans

Miles Okazaki Interview Rodney Jones

Miles Okazaki is a NYC based guitarist originally from Port Townsend, a small seaside town in Washington State. His approach to the guitar is described by the New York Times as "utterly contemporary, free from the expectations of what it means to play a gui

, ...

Nashville City's Music

Marcus Finnie

A Memphis native, Marcus Finnie began playing drums at church accompanying his mother on organ. During this time, he practiced to vinyl records from Billy Cobham to Earth Wind and Fire. At age 4 he sat in with a band on Beale Street at Rum Boogie Cafe. At the age of thirteen while playing at Olivet, he me

, ...

6

Fabulous. Formidable. Female.

Laurin Talese

Laurin Talese has been captivating audiences with her pure tone and poignant lyrics since childhood. A Cleveland, Ohio native, Laurin was classically trained at the Cleveland Institute of Music and later studied classical and jazz voice at the University of the Arts where she received a bachelor's degre

, ...

7

Songs From WE THE NORTH

Rich Brown

Canadian born Toronto based musician Rich Brown has established himself internationally as an influential electric bassist, an award winning bandleader/composer, and an esteemed educator. All About Jazz called Brown "one of the finest electric bassists you'll hear anywhere", and The Los Angeles Times st

, ...

8

In My Solitude

Sara Serpa

A native from Lisboa, Portuguese Sara Serpa is a singer, composer, improviser, who through her practice and performance, explores the use of the voice as an instrument, working in the field of jazz, improvised and experimental music, since moving to New York in 2008. Literature, film, visual arts, nature an

, ...

9

Mother's Love Celebration

2:00 PM

J. Michael Harrison

J-Michael Harrison's first radio show, WPEB's, "Is That Jazz" launched in June of 1993. In 1994 he began volunteering with WRTI as a production assistant. In 1996 J. Michael started his own show, The Bridge, which continues to air on Friday nights to this day.

The Bridge was selected as Phil

, ...

10
11

River Recital Presents

Narotam Horn

London based composer and pianist Narotam Horn began studying composition under Jonathan Cole and Dai Fujikura at the Purcell School of Music. Narotam was selected as the youngest composer to take part in Harrison Birtwistle's Birthday Celebration in the Queen Elizabeth Hall, and he received an honourabl

, ...

12

Double Down (Duos in LA)

Dean Mucetti

Dean Mucetti is a drummer, bandleader, and music educator from the Los Angeles area. Born to immigrant parents from Cuba and Italy, Dean began playing drums in his teenage years, and navigated down a winding road that led to his eventual graduation from the California Institute of the Arts (CalArts) in 200

, ...

13

From Paris with Love

Sélène Saint-Aimé

Sélène is a young afro-french contrabassist, singer and composer with Caribbean and west African origins. Based in Paris, France, she develops her own identity traveling the world, learning about different cultures (Cuba, USA, North Africa, Spain, Italy, West Indies…) In the greek mythology, S

, ...

14

I Am Here Now

2:00 PM

Kristin Lee

An Avery Fisher Career Grant recipient and a top-prize winner of the Walter W. Naumburg Competition, Kristin Lee is a violinist of remarkable versatility and impeccable technique. Lee has soloed with the Philadelphia Orchestra, St. Louis Symphony, and St.

Paul Chamber Orchestra and has performed at Carnegie

, ...

15

TRANSCENDENCE in memory of Prashant Bhargava

2:00 PM

TRANSCENDENCE in memory of Prashant Bhargava 1/12/1973 – 5/15/2015

Prashant Bhargava (1/12/1973 – 5/15/2015) was a brilliant filmmaker and visual artist, and one of my dearest friends and collaborators. He lived his life cherishing every moment, amplifying the goodness and the joy around him. He had a kee

, ...

16

Live From Spaceship Earth

2:00 PM

Josh Lawrence

Josh Lawrence is a critically acclaimed trumpeter and composer.
His ensemble was dubbed "an all-star outfit" by The New York Times.
​Bandmates include alto saxophonist Caleb Curtis, drummer Anwar Marshall, pianist Zaccai Curtis, and bassist Luques Curtis.
The quintet's three albums Color Theory, , ...

17
18

Wear Your Corona Like a Garland of Stars

2:00 PM

Eugene Skeef FRSA

Eugene Skeef is a South African percussionist, composer, poet, educationalist and animateur and has lived in London since 1980. He also works in conflict resolution, acts as a consultant on cultural development, teaches creative leadership and is a broadcaster. In 2003 he founded Umoya Creations, a c

, ...

19

New and Old Worlds

Dan Blacksberg

From the landmark experimental music venue Roulette to the Krakow Jewish Culture Festival, Philadelphia-native Dan Blacksberg has created a singular musical voice as a trombonist, composer, and educator. Acknowledged as the foremost practitioner of klezmer trombone in its traditional and modern forms and

, ...

20

Lets keep playing…repeat until cue!

2:00 PM

Oscar Peñas

Barcelona, Spain native, and an NYC based since 2007, Oscar Peñas www.oscarpenas.com is a guitarist, composer, and arranger. Having spent formative years in Boston at the New England Conservatory and previously at Berklee, he is now a resident of Harlem, NYC.
Peñas has got the attention of programmers , ...

21

Sooya Arts – From There to Hear

Sophia Wong

Sooya Arts, formed in 1992 by Sophia Wong, is a music management company whose focus is representing some of the most creative artists in the music world.

Sophia was born and raised in the Hyde Park / Kenwood section of Chicago as the youngest child of Chinese immigrant parents. With an architect father and

, ...

22

The Music of Ornette Coleman

2:00 PM

Scott Colley

Scott Colley's stature as a leading bassist in the field of improvised music is well known, and easily measured. He's been called "one of the leading bassists of our postbop era, and a composer-bandleader of quietly serious resolve" by The New York Times, while musical colleagues, like saxophonist

, ...

23

A Reason to Live

2:00 PM

J. Michael Harrison

J-Michael Harrison's first radio show, WPEB's, "Is That Jazz" launched in June of 1993. In 1994 he began volunteering with WRTI as a production assistant. In 1996 J. Michael started his own show, The Bridge, which continues to air on Friday nights to this day.

The Bridge was selected as Phil

, ...

24
25

In Our Hands

2:00 PM

A note from Sumi Tonooka, Curator.

Dear listeners, Thank you for being here! Covid-19 has changed our world as we knew it. It's in Our Hands now to make it better. Anthony Tidd has seized the moment creating this online global platform, to do just that, from the compost, to something beautiful uniting musicians and a

, ...

26

The Dominican-Haitian Rhythmic Connection

2:00 PM

Joselo Locandro

Joselo Locandro is pianist and composer who believes that original ideas are the the essence of of improvised music.Playing the standard jazz repertoire of the 30s-50 is fine, but to continue to advance in the jazz tradition composers should look to emulate their ancestors and create their own new songs

, ...

27

Umsamu: An Ancestral Gathering

1:00 PM

Umsamu: An Ancestral Gathering

Reflections (Isandulelo)

This is a sonic response to the current global pandemic. It is a letter, a prayer, a meditation, a ritual. As we are told by the wise ones on this side of the world ('inzalo yaseKhemu'), it is believed that dis-ease in the physical realms is a result of uncert

, ...

Thinking about the Past and the Present Moment

2:00 PM

Steve Rowland: Interviews with Music Masters

Steve Rowland has spent a career using music, theater and art as windows to explore issues in American history, society, race relations, human creativity, spirituality, aesthetic beauty, the nature of change and human possibility.  He is one of the most accomplished music d

, ...

28

JAMMIN'COLORS « STAY STRONG »

2:00 PM

Curated by Stefany Calembert

Stefany was born in 1978 in Brussels. She started listening to music with the radio in the kitchen at home. Her father was a fan of Jazz and her mom in love with Rock & Soul. As a teenager, she spent most of her time in the streets, learning about life but also danci

, ...

29

4 Solos

2:00 PM

Matt Mitchell

Matt Mitchell is a pianist, composer, and electronic musician interested in the intersections of various strains of acoustic, electric, composed, and improvised new music. He has released several forward-thinking, critically acclaimed, and influential albums as a leader on Pi Recordings and Screwgun Recor

, ...

30

31
1

2

3

4

5

6

7
Interested in participating?