Description
Umsamu: An Ancestral Gathering
Reflections (Isandulelo)
This is a sonic response to the current global pandemic. It is a letter, a prayer, a meditation, a ritual. As we are told by the wise ones on this side of the world ('inzalo yaseKhemu'), it is believed that dis-ease in the physical realms is a result of uncertainties in the spiritual worlds. Similarly, blessings are believed to be manifestations of things already experienced in the spirit worlds.
Thus our forefathers believed that in order to attain planetary harmony, it was necessary to keep the two worlds connected. In fact, African cosmology understands the material and the spirit worlds as being connected in a kind of parallel existence. Quite central towards maintaining of these affinities, rituals are practiced as a bridge, hence the music (ritual) you are about to experience.
The 1st movement 'Preparation' with Zawadi Yamungu, locates the past as our point of departure. Through song, chants and praises, it is aimed at enticing and inviting the presence of all divinities to channel light through a pilgrimage into the wilderness.
The 2nd movement 'Ritual' with Linda Sikhakhane, Amaeshi Ikechi and Tumi Mogorosi, interrogates a re-membering of being. It seeks to speak the language of the unseen. This movement explores a possibility of a new language.
The 3rd movement 'Grace' with Sibusile Xaba, is state of being in a utopian home. A moment of stillness, and being one with the gods.
The 4th movement 'The Return' with Nduduzo Makhathini and Omagugu Makhathini, reflects a coming home, a way of learning anew and a reincorporation of a new self into the  world.
LISTEN WITH YOUR HEARTS
Hotep,
Nduduzo Makhathini (curator)
Nduduzo Makhathini
Over the course of nine albums, perhaps what one can learn from the career of Blue Note pianist Nduduzo Makhathini is that an artist has achieved a tremendous breakthrough when they can tell a story so layered that its reach is limitless. The composer and producer grew up in the lush and rugged hillscapes of emGungundlovu, a peri-urban landscape in which music and ritual practices were symbiotically linked. The area is significant historically as the site of the Zulu king Dingane kingdom between 1828 and 1840. It's important to note that the Zulu, in fact the African warrior code, is deeply reliant on music for motivation and healing. This deeply embedded symbiosis is key in understanding Makhathini's vision as a jazz man. But the role of the church can also not be ignored. Makhathini is famously said to have hopped from church to church in his younger days, in search of only the music. "I found the sermons to be a bit boring, to say the least," he said, telling the BBC the story of There's Another Church Down The Road, off the 2014 album Mother Tongue. There has also been a litany of jazz elders Makhathini has imbibed from. "I just think ubab' [Bheki] Mseleku grew up listening to the same kind of music I grew up listening to, having come from KwaZulu-Natal," he said. "Izangoma and all the different rituals that would have come with their repertoires. He was the most natural influence that I first heard." He also mentions the likes of Moses Molelekwa who died really young "but his contribution was so big," especially in terms of wrestling against the strictures of genre. "ubab'Abdullah  Ibrahim] also contributes in defining African jazz piano," said Makhathini. "He has written so much music and we grew up listening to it.
Omagugu Makhathini
Omagugu, who hails from KwaZulu Natal, brings a new sound with her unique voice; just what Africa has been waiting for.
Her debut album, "Uthingo LweNkosazana", features beautiful intertwining textures of rhythm, space, melody and harmony that explode into a rainbow of musical colours rippling from within to transport you into a spiritual journey. Omagugu, singer, songwriter, lyricist, vocal coach and choir conductor, was born in KwaZulu Natal in a small town called Nquthu, the neighbouring town of the historical battle field of Isandlwana. Omagugu's love for music began in boarding school where she enjoyed singing in the school choir, and was inspired by her mother as they sang together in the church choir. Omagugu would listen to her mother's musical collection of Afro jazz and country music late every Sunday night, when the rest of her family had fallen asleep. She would dream of a new world where she would perform and lift people's spirits through her singing and storytelling.
Zawadi Yamungu
Linda Sikhakhane
Linda Sikhakhane was born (14 June 1992) and raised in Umlazi Township just outside Durban in KwaZulu Natal. His love for music was triggered at an early age which saw him attending music classes at the age of 10 in elementary school. He later took up jazz lessons under the tutelage of Dr. Brian Thusi at Siyakhula Music Centre, a community centre in his neighborhood. It was through Thusi that Linda made his first public appearance as a performing and recording artist. In 2012 he obtained a Diploma In Jazz/Contemporary Music at The University of Kwa-Zulu Natal, concentrating on music performance and composition. Post-graduation he relocated to Johannesburg where he began to make a name for himself as one of the most talented jazz saxophonist to come from South Africa.Linda has performed and recorded with respected South African and international artists such as Hugh Masekela,Sibongile Khumalo, McCoy Mrubata Simphiwe Dana, Thandiswa Mazwai, Brian Thusi,Nduduzo Makhathini, Marcus Wyatt, Herbie Tsoaeli, Barnie Rachabane, Khaya Mahlangu, Ringo Madlingozi, Feya Faku, Rodney Kendrick, Gregory Potter, Reggie Workman, Rhonda Ross, Ted Daniel, Derrick Hodge, Logan Richardson, just to name a few.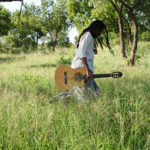 Sibusile Xaba
Charismatic guitar savant Sibusile Xaba reframes maskandi and the avant garde into his own humanist manifesto. With a vocal style that is part dreamscaping and part ancestral invocation, Xaba divines as opposed to plainly singing, ombined with a guitar style that is rooted in expressive picking, Xaba's music shatters the confines of genre. Steeped in the lineage of Zulu guitar giant Madala Kunene (Sibusile's first mentor) & warrior chants of vocal master, Shaluza Max, he not only owns these influences, but pushes the envelope as only a maestro with a keen ear for the future does and imbuing these with a mythology and improvisational intensity all of his own. His debut LP, Open Letter to Adoniah is a musical open letter to Sibusile Xaba's child, Open Letter to Adoniah is an album reverent of life and its connectedness to a higher source. The music emanates from dreams revealed to guitarist Sibusile Xaba over consecutive days and was released by South African independent label Mushroom Hour Half Hour in 2017 to great feedback from taste makers across the globe, leading to multiple European tours including shows at Roskilde Festival (Denmark), Le Guess Who (Netherland) and his first Australian tour. Xaba has released his second album Ngiwushwabada on French label Komos Jazz in February 2020 Maskandi, malombo, the desert blues and jazz all figure in Sibusile Xaba's expansive vocabulary, albeit through a magnetic individual filter.