Description
TRANSCENDENCE in memory of Prashant Bhargava 1/12/1973 – 5/15/2015
Prashant Bhargava (1/12/1973 – 5/15/2015) was a brilliant filmmaker and visual artist, and one of my dearest friends and collaborators. He lived his life cherishing every moment, amplifying the goodness and the joy around him. He had a keen eye for beauty, and he especially appreciated acts of beauty that stood in defiance of the abject human condition, like light into darkness — or like the lotus in spite of the swamp, to quote Archie Shepp quoting the Buddha.

We loved Prashant because his struggles were everyone's struggles; because his exemplary ability to transcend them was his greatest of his many phenomenal gifts; because that transcendence is how we all get through our lives – by shining our own lights into the darkness.

The last major project Prashant and I did was a film with live musical accompaniment titled Radhe Radhe: Rites of Holi, which interweaves vivid footage of Holi celebrations in North India with a staged encounter between the deities Radha and Krishna. It was released on DVD/BluRay on ECM Records in 2014, and we received special permission to stream it as part of this collection, to commemorate the fifth anniversary of his passing. The rest of the music presented here consists of individual and collective creations by phenomenal artists whom Prashant knew and loved. Thank you for joining us in celebration of our friend.

– Vijay Iyer, New York City
PROGRAM:

– Arooj Aftab / Vijay Iyer / Shahzad Ismaily: Love in Exile

– Tyshawn Sorey: For Prashant (solo piano)
– Himanshu Suri / Vijay Iyer / Shahzad Ismaily / Kassa Overall / Arooj Aftab: Kebab Uncle
– Radhe Radhe: Rites of Holi (film by Prashant Bhargava with live score by Vijay Iyer, performed by International Contemporary Ensemble, 2014; courtesy of ECM Records)
– plus "The Creation of Radhe Radhe: Rites of Holi" (short documentary, 2014, courtesy of ECM Records)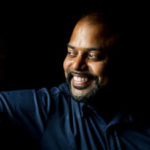 Prashant Bhargava
Prashant Bhargava was an award-winning filmmaker and commercial director/designer, whose impressive and unique career was tragically cut short by his sudden death at 42 from cardiac arrest, in the spring of 2015. Described by producer Anthony Bregman as "visionary and soulful", "masterful" by Roger Ebert and "a humanist and a real talent" by Michael Phillips of the Chicago Tribune, Bhargava was a meticulous artist and a consummate auteur, whose source materials and canvases were the Indian experience, in India as well as in diaspora. In his groundbreaking work on RADHE RADHE: Rites of Holi, which he conceived with Vijay Iyer, Bhargava produced and directed a nearly last-minute, difficult shoot in Uttar Pradesh, meticulously editing the footage to Stravinsky's original music, before handing the final edit to Iyer, who then wrote an entirely new score, timed to Bhargava's edit.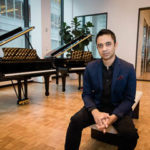 Vijay Iyer
Described by The New York Times as a "social conscience, multimedia collaborator, system builder, rhapsodist, historical thinker and multicultural gateway," composer-pianist VIJAY IYER has carved out a unique path as an influential, prolific, shape-shifting presence in twenty-first-century music. He received a MacArthur Fellowship, a Doris Duke Performing Artist Award, a United States Artist Fellowship, a Grammy nomination, and the Alpert Award in the Arts, and was voted Downbeat Magazine's Jazz Artist of the Year four times in the last decade.
He has released two dozen albums, including The Transitory Poems (ECM Records, 2019) in duo with pianist Craig Taborn; Far From Over (ECM, 2017) with the Vijay Iyer Sextet; A Cosmic Rhythm with Each Stroke (ECM, 2016) in duo with composer-trumpeter Wadada Leo Smith; Break Stuff (ECM, 2015) with the Vijay Iyer Trio; the live score to the film Radhe Radhe: Rites of Holi (ECM, 2014) by filmmaker Prashant Bhargava; and Holding it Down: The Veterans' Dreams Project (Pi Recordings, 2013) with poet-performer Mike Ladd.
Iyer's concert works have been commissioned and premiered by Brentano Quartet, Lutoslawski Quartet, Ethel, Brooklyn Rider, Imani Winds, American Composers Orchestra, Bang on a Can All-Stars, The Silk Road Ensemble, International Contemporary Ensemble, Chamber Orchestra Leopoldinum, Orpheus Chamber Orchestra, St. Paul Chamber Orchestra, LAPhil Group for New Music, American Composers Orchestra, and soloists Matt Haimowitz, Claire Chase, Mishka Rushdie Momen, Shai Wosner, and Jennifer Koh. Iyer is the Artistic Director of the Banff International Workshop in Jazz and Creative Music. He teaches at Harvard University.
Photo:Monica Jane Frisell
TYSHAWN SOREY
Newark-born multi-instrumentalist and composer Tyshawn Sorey (b. 1980) is celebrated for his incomparable virtuosity, effortless mastery and memorization of highly complex scores, and an extraordinary ability to blend composition and improvisation in his work. He has performed nationally and internationally with his own ensembles, as well as artists such as John Zorn, Vijay Iyer, Roscoe Mitchell, Muhal Richard Abrams, Wadada Leo Smith, Marilyn Crispell, George Lewis, Claire Chase, Steve Lehman, Jason Moran, Evan Parker, Anthony Braxton, and Myra Melford, among many others.
The New York Times has praised Sorey for his instrumental facility and aplomb, "he plays not only with gale-force physicality, but also a sense of scale and equipoise"; The Wall Street Journal notes Sorey is, "a composer of radical and seemingly boundless ideas." The New Yorker recently noted that Sorey is "among the most formidable denizens of the in-between zone…An extraordinary talent who can see across the entire musical landscape."
Arooj Aftab
is a neo-sufi and minimalist composer/singer who gracefully experiments and bends the lines between ancient mysic poetry, south asian classical, jazz, soul and electronic dreamscape musics. In 2018, Aftab was named among NPR's 200 Greatest Songs by 21st Century Women, and The New York Time's 25 Best Classical Songs of 2018. Aftab has opened for Mitski at the Brooklyn Steel, has performed at MoMa's Summer Series, and the Brooklyn Museum's First Saturday Series.
Himanshu "Heems" Suri
American rapper from Queens, NY.
—
himanshu suri – @himanshu
Kassa Overall
is a jazz musician, emcee, singer, producer and drummer. One of the fastest rising stars of New York City's legendary jazz scene and a self-described "backpack jazz" artist, he melds the praxis of avant-garde improvisation with hip-hop production techniques on his latest album, I THINK I'M GOOD, released on Gilles Peterson's Brownswood Recordings in February 2020.
Following up the critically-acclaimed Go Get Ice Cream and Listen to Jazz (2019), I THINK I'M GOOD tilts the nexus of jazz and hip-hop in even stranger, more unexpected directions, from Joan Baez to West Coast G-Funk to the sounds of the New York avant-garde. His singular brilliance has been embraced with rave reviews from Pitchfork, Afropunk, NPR, BBC, and The New York Times.
Overall has been working at the forefront of jazz for two decades, touring and recording as a sideman drummer with artists as varied as Francis and the Lights, Yoko Ono, Vijay Iyer, Jon Batiste, Geri Allen, and Gary Bartz. Raised in Seattle, Washington, Overall attended Garfield High School, the alma mater of Quincy Jones and Jimi Hendrix. A graduate of Oberlin Conservatory of Music, he is currently based in Brooklyn.
Shahzad Ismaily
is a lonesome artist (see Tom Hiddleston as . . . ), still trying to find his way in a circuitous fashion.  Blessed to have a home, steady food, and some savings during this unusual time, he's diving deep into daily meditation, tai chi, sun salutations, reading, writing and especially Erik Satie's Socrate, a balance of boring, bemused, bureaucratic and blissful.  Will he make it?  Will he be a better musician by summer?  Who is he?