Description
Curated by Kokayi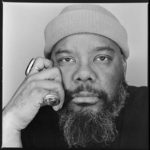 Artist. Producer.Educator | Connector of dots…
Preeminent Improvisational Vocalist, GRAMMY-nominated musician, Creative DSGN for projects with Grammy-nominated artist Goldink and artist/musician Guillermo Brown (James Corden Show). He can be heard on his lates works living while black and HUBRI$ as well as on Terri Lyne Carrington +Social Science Waiting Game, Whose Hat is This? Everything's Ok, Goldlink's At What Cost, MTV's Rebel Music, Kevin Hart's Laugh At My Pain, A'Larrache (Canal +), I Ain't Scared of You: a Tribute to Bernie Mac and over 60 recordings spanning Jazz, Hip Hop, Rock, Electronica and R&B.
Kokayi continues musical work with Ambrose Akinmusire, Terri Lyne Carrington + Social Science, Whose Hat is This?, Ego Mondo, and MacArthur recipients Dafnis Prieto Proverb Trio and Steve Coleman Five Elements. He has been a TEDxWDC presenter, speaking on "collaboration and the creative economy," has taught university-level classes on vocal improvisation at Monash (Melbourne, AU), Universidade Lusíada (Lisbon, PT), Stanford, Carnegie Mellon, NYU, and San Francisco State, performed in over 42 countries utilizing hip hop culture as a tool for diplomacy, education, and catalyst in fostering cultural exchange.  "My work is an amalgamation of my life experiences as filtered through; DC, Go-Go and the music begat from the African diaspora."
Jenna Camille
Jenna Camille is a singer-songwriter from Accokeek, Maryland whose music is "a heady mix of R&B with elements of jazz, hip-hop and electronic music," as described by The Washington Post, which "evokes the anything-goes apotheosis of neo-soul". Growing up, Jenna received formal training in piano, studying at the New Sewell Music Conservatory and DC's esteemed Duke Ellington School of the Arts. She then majored in jazz studies at both Michigan State University and the University of the District of Columbia. At the same time, Jenna has performed at a wide range of events, including the Chale Wote Street Art Festival in Accra, Ghana, and the Common Ground Music Festival in Lansing, Michigan. She has also shared bills with acts like Hollie Cook and Damu the Fudgemunk, among others. in 2018, She and portugal-based producer, Pedro Ricardo, released their joint album "This Is What I'm Going Through" on Wolf Music Recordings. The album was featured on I-D France, BBC Radio, Stamp the Wax, Bolting Bits,NTS Radio and Virgil Abloh's Televised Radio" on Apple Music.
Cecily
DC-based vocalist and songwriter Cecily is known for her agile soprano and honest lyrics. Her current album Awakening Pt. 1 was named "Best New Soul on Bandcamp" by the Bandcamp editorial team, who described the project as "stirringly timeless and modern." Her sound, as soothing as it is rich, is musically mature, and rooted in a deep appreciation for mid-century soul and jazz, 90's R&B, and re-imagined folk music. Her work has a unique sensuality that informs not only her vocal approach, but also her self-reflecting lyrics, grappling with self-acceptance, vulnerability, and rebirth. Cecily has opened for award winning jazz and soul artists Gregory Porter and Jose James, R&B stars Johnny Gill, Kenny Lattimore, and Elle Varner, folk artist Becca Stevens, and alternative soul pioneer Bilal. She has played at the legendary Blues Alley and the Apollo Music Cafe, as well as The Kennedy Center, The Hamilton, The Howard Theater, and Bethesda Blues & Jazz Supper Club.
flymyspcshp : self-oscillating sunday sunrise jam
flymyspcshp is a moniker of keyboardist-composer-producer Jason Lindner. Taking early refuge in art and music, the Brooklyn-native, who's first love is the piano, once mysteriously told his mom he's not from "here," and would stay awake peering at the night sky in hopes of seeing alien spacecraft. Fitting that years into the future the eclectic music-journeyman manns the controls of his own ever-evolving ship, the dust trails of which can be heard on wax with Now Vs Now, Donny McCaslin, and on the final album of David Bowie, '􀌣' (blak-stär), for which producer Tony Visconti called Jason a "Godsend" for his nuts-n-bolts approach to sound design. Such talents have also led to collaborations with the likes of Mulatu Astatke, Angelique Kidjo, Roy Haynes and Meshell Ndegeocello, who onstage encouraged Jason with the phrase, "Fly your spaceship!"