Description
Luke Carlos O'Reilly Presents
Presented by ACT4Music Curator Luke Carlos O'Reilly.
Featuring Luke Carlos O'Reilly, Melanie Charles, Julius Rodriguez and Arturo Stable.
Luke Carlos O'Reilly
Luke Carlos O'Reilly is an award winning pianist who has always had a great passion for music. He is heavily influenced by Jazz, Soul, R&B, Gospel, Latin Jazz, Classical and many other styles of music.
After a Boston upbringing, Luke moved to Philadelphia, Pennsylvania to attend Esther Boyer School of Music at Temple University on an academic and music scholarship. It was in Philadelphia where he had the opportunity to tour or record with artists such as Seal, Nicholas Payton, Roy Ayers, Dave Valentin, Curtis Fuller, Bobby Watson, Randy Brecker, Billy Paul, Fred Wesley, Steve Turre, Musiq Soulchild, Bilal, K'naan, Wiz Khalifa and many others.
Luke has 2 independently released solo albums; 'Living In The Now' (2011) and '3 Suites' (2013).  Both albums contain original compositions as well as covers from Stevie Wonder, The Beatles, Cedar Walton, Mulgrew Miller, Janet Jackson, SWV and many other eclectic artists.  Recently (2018), Luke was named an Artist In Residence at The Kimmel Center For The Performing Arts in Philadelphia, PA.  In addition to his continued touring with his own projects as well as working as a sideman, Luke is currently a teacher at The Kimmel Center of Philadelphia.
Melanie Charles with Rogerst Charles
Melanie Charles is a Brooklyn-born singer-songwriter, actress, and flutist of Haitian descent, with a creative fluidity spanning jazz, soul, experimental, and Haitian roots music. Charles latest release "The Girl with the Green shoes" established Charles as a progressive voice in Jazz gaining 2 features in The New York Times, as well as The Village Voice. "You can hear her collaging her musical DNA into jazz-studded multi-instrumentalism and dipping a toe into the experimental… there's an uncanny cohesion to Charles' music." – Village Voice. Charles graduated from the New School for Jazz and Contemporary Music with a BFA in vocal jazz performance  has worked with Herlin Riley, Jean Grae, SZA, the Gorillaz, Mark De-Clive Lo, and Marc Cary.Her television appearances include Good Morning America, SNL, and The Late Show with Stephen Colbert, and HBO's Vinyl. Charles' musical passion project "Make Jazz Trill Again" aims to blur the lines between social classes, cultures, genders, genres, and theories to create a world where opposing elements can co-exist
Julius Rodriguez
"Possessed of a lissome sensitivity and grace"
— The New York Times
"A revelation"
— San Francisco Classical Voice
Multi-instrumentalist and composer Julius Rodriguez bonds a deep sense of history with an appetite for the unknown. At 21, the Westchester native has garnered critical praise from JAZZIZ magazine, The New York Times, Paste and Vanity Fair, and earned performance opportunities alongside Wynton Marsalis, Keyon Harrold, Ben Williams, Jazzmeia Horn, A$AP Rocky, Meshell Ndegeocello, Braxton Cook and the late Roy Hargrove. Julius' contributions on piano, drums, synthesizer and electric bass appear on releases from Kassa Overall, Carmen Lundy, Brasstracks, Morgan Guerin, J. D. Walter and Damien Sneed.
Since attending Juilliard and MSM, Julius has performed at notable New York venues, including Dizzy's, Smalls Jazz Club, Smoke Jazz and Supper Club and The Jazz Gallery, as well as The Black Cat in San Francisco. He has appeared at clubs and festivals across the country and throughout the world, including The Blue Note, SFJazz, The Kennedy Center, Ronnie Scotts, and Monterey and North Sea Jazz Festivals. An emerging leader and highly sought collaborator, Julius looks forward to issuing his debut release in 2020.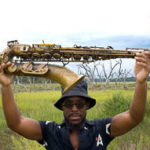 MARCUS STRICKLAND
When last we heard from Brooklyn composer-saxophonist Marcus Strickland, on 2016's Nihil Novi, he was testing his mettle at hip-hop-inspired production, blending genres with a little help from album producer Meshell Ndegeocello. In the process, something big happened: "I was no longer concerned about what is or isn't jazz," he says. "I got rid of those barriers and was like, 'Well, who the fuck am I?' That's when I started on this path." On his thrilling new LP, People of the Sun, Strickland blazes down that trail fully at the helm of his music—performing, writing, and producing with his outrageously able Twi-Life band on deck—even as he sonically and socially traces the African diaspora from present to past in an effort to unpack his identity. "I'm thinking about where we came from," says Strickland, "and how that clashes and goes hand in hand with what we've created here as Black Americans." The result is an album that's busy and beautiful, inventive and contemplative, an amalgam of influences from West Africa (griot culture, Afrobeat, percussion) and America (post-bop, funk-soul, beat music) performed in the key of revelation.
Of course, genre doesn't mean much to Strickland—"Trying to fit into one has absolutely nothing to do with the progress of music," he declares—but origin does. And though his epiphany about not conforming to a particular sound may be recent, his roots and career have been bending toward that all along. Growing up in Miami, Strickland always thought of music "in a very mixed up way." He heard Haitian sounds, Afro-Cuban rhythms, and southern rap in the streets, while at home his dad would jump from Stevie to Coltrane to P-Funk on his reel-to-reel deck. Meanwhile, his mom put Marcus and his twin brother E.J. into art school so they'd be surrounded by proper "music nerds." The talent they nurtured there on saxophone and drums (respectively) propelled the pair on to The New School at just the right time: college was basically one wild jam session with likeminded upstarts like Robert Glasper, Keyon Harrold, and Bilal Oliver—guys who'd go on to remake jazz (and more) in their own post-modern musical image. "Something was brewing," recalls Strickland. "All I knew was whatever I was into, it was there. I was in the right place."
To hear People of the Sun, that backdrop feels more like fate than chance. Strickland's eighth album opens with "Lullaby," a track that moves in two different time zones, swaying to our host's saxophone up top and jittering underneath to the djembe and batas of the Ghanaian-born, St. Louis-raised Weedie Braimah. Second song "Timing" pairs Twi-Lifer Mitch Henry's shimmering organ with an astral trap beat before the rhythm section gives us a drum 'n' bass-evoking jolt—Kyle Miles' low end burbling along to Charles Haynes' rapid-fire snaps and pops. Strickland's blowing glides over the bustling scene, which is fitting since he was imagining "being a black superhero, soaring through the air trying to save my people." It nearly sounds like something Flying Lotus might dream up, but live. That's because after Nihil Novi's fractured approach, Strickland knew he wanted his band all in one room playing together again. Their chemistry is palpable even on headnodic funk-bubbler "On My Mind," where Bilal and Pharoahe Monch explore infatuation and romantic love, while modern griot Greg Tate speaks on a nurturing force that's more elemental.
Another facet that sets People of the Sun apart: Strickland's lesser-known woodwind obsession the bass clarinet, which adds its noirish hues to so many of these songs. His interest began years ago and, fittingly, he says, "It had nothing to do with Eric Dolphy." Shortly after his fiery 2001 LP debut At Last, Strickland took third place in the Thelonious Monk International Jazz Competition for saxophone. Rather than invest in better brass, he spent his winnings on: a) software that would help him emulate J Dilla's beats, and b) a busted bass clarinet inspired by Madlib's low reed sounds. He kept those interests quiet as he honed his approach, but with 2006's double-album Twi-Life it became evident that Strickland was playing in two worlds: the old one that belonged to his jazz heroes, and the new one that wove disparate genres into one technicolor tapestry. He continued exploring—with spoken word on Open Reel Deck (2007), classic ballads on Of Song (2009) and left-field songwriting on Idiosyncracies (2009), where Strickland interpreted everyone from Björk to André 3000—until he was able to meld it all into a sound and feel that is undeniably his own.
Which gives the artist his sturdiest platform yet from which to ask what it means to be black in America. A pair of songs embodies two sides of the struggle. "Black Love" explores strength as Strickland calls his parents and confidantes to ask them on the fly what the titular phrase means to them. "There's another layer to it for oppressed people," he summarizes. "Because your love is transferred to your community. To preserve it, you have to think of your people as one instead of thinking of just yourself." But "Cloaked in Controversy" captures anxiety as two women—one representing a child and the other an adult—read the same prepared lines reminding the men in their lives about the bodily danger lurking outside their doors. The point, says Strickland, is "No matter what age you are, that script exists in your mind: a black male can get arrested, tried and sentenced much more harshly than any other, whether he's your brother, father, uncle, husband, son or granddad." The instrumental "Build" falls in between both literally and figuratively, always pushing toward a hard-won slice of peace but getting slowed by loops and snags along the way.
But People of the Sun's message isn't bleak. "Marvelous," with its royal, African-kissed groove, offers a corollary to the fear of "Cloaked In Controversy"—a black male, the soulful Akie Bermiss, praising his partner as his rock in a chaotic world. And the Fela-infused "Aim High" finds Jermaine Holmes cooing inspiration to a new generation. In fact, the vocodered mantra sung by Henry on the title cut spells it out: "Praise the queens, praise the kings of the sun/Stand on up, join the fight, fight for your rights/Spread the love, rise above, reach for the light." Strickland was inspired by the writing of Ta-Nehisi Coates, and the oration of Malian griots like Bazoumana Sissoko. Here he highlights the importance of dialogue and—through music—a more visceral form of communion. It all comes together on closer "Spirit of the Music." Twi-Life sits in the pocket while Czech-born Africologist Petra Richterova speaks on her experience with the culture. But as her voice fades, Braimah's congas crackle and the band explodes. When it's all played and done, we're left with exuberance—shouts and laughter—and a sense that we've come a bit closer to a deeper truth.
Arturo Stable
Grammy Award winning Percussionist
Composer/Producer/Educator
Meinl Artist
Education
2007-2009 Master's in Jazz Studies (BM). University of the Arts, Philadelphia,
Focus: Composition
2001-2003 (2) Bachelor's of Music (BM). Berklee College of Music, Boston Massachusetts. Major: Contemporary Writing and Production.
1997-1999 Post-Graduate Diploma on Music Education. UNIDES, Puebla. Mexico. Focus: Music Education
1989-1993 Bachelor's of Music (BM) National School of Music Amadeo Roldan. Havana,Cuba. Major: Percussion Performance.
1984-1989 Inter-Medium Level of Music. National Conservatory Manuel Saumell. Havana, Cuba.
Teaching Experience
(Select list, applied Classical, Afro-Latin Percussion & Composition.)
2008-2017
University of The Arts, Philadelphia, PA (Chair of Hand Percussion department.
Ensemble coach, Composition)
20015-2016
West Chester University, PA (Percussion/Latin Jazz)
2007-2013
Musinetwork School of Music (Online, music theory/Harmony) Boston, MA
2006-2007
The Music Studio at 53 St. New York, NY
2001- 2002
Sulky Music Institute. Cambridge, Massachusetts.
1995-1997
Puebla State University,(BUAP) Puebla, Mexico.
1992-1993
National Conservatory Manuel Samuel. Havana, Cuba.
Recording Projects (select list)
2019 Cinque -Elio Villafranca *Grammy Nominee Record, Best Jazz record
2015 Jazz Meets The Classics -Paquito D Rivera *Grammy Winning Record, Best
Latin Jazz Record
2013 Money Jungle -TLC *Grammy Award Winning Record, Best Jazz Album
2012 Cuban Crosshatching – Arturo Stable Quintet
2010 Dos y Mas Arturo Stable & Elio Villafranca
2009 CALL Arturo Stable
2007 Notes on Canvas Arturo Stable
2007 The year of 2 summers, Edward Perez
2007 Greg Diamond debut CD
2007 Elio Villafranca The Source in Between
2006 FarAway, FellyK
2005 Brian Macnight Project
2003 Third Step. Arturo Stable Quartet
Business related activities
2010-2011
-Consultant for the Kimmel center of the Arts Educational Program.
2011-2012
-Member, Board of Governors. Philadelphia Chapter of the Grammy foundation.
2008-2011
– Artistic Director of the International Puebla Jazz Festival. Puebla, Mexico.
2004-2010
– Co- Founder of Origen Records
– Co-Founder of Musinetwork School of Music, Boston, MA
Composer Commissions
2018
-Violin Concerto (Violinist extraordinary Lara St Jones)
2017
-String Quartet (Harlem String Quartet/Curtis Institute)
2015
-Saxophone Quartet (NJ Sax Quartet)
2012
– "A Wheatfield on a summer afternoon" -String Quartet/Jazz Combo
(Philadelphia Museum of Art)
2011
-"All around the world" Suite ( University of the Arts Kerber's Big Band)
2008
-Ominira Suite for Orchestra (Puebla State Symphony Orchestra)
Reduced Bio
Considered by the jazz media at the forefront of his musical generation, Cuban
born Multi-Instrumentalist and Composer Arturo Stable has share the
stage/studio with artists such as Grammy award winners Paquito D Rivera,
Esperanza Spalding, The Caribbean Jazz Project, Miguel Zenon, Terri Lyne
Carrington, Christian McBride and The Philadelphia Symphony, just to name a
few.
Mr. Stable also has an extensive experience as a clinician and educator. He was
the Chair of the Hand Drum Department at the University of the Arts in
Philadelphia (2012-2017) Artistic Director of the Puebla Jazz Festival (Mexico
2008-2011) and Artistic Director of the Philadelphia International Hand Drum Day
(2012-2013) He has also collaborated with various universities including Juilliard,
Temple, Westchester, and Berklee College among others. Mr. Stable has
developed a strong international presence as a bandleader with five releases
under his name and countless international appearances in important festivals
such as Madrid Jazz Festival, Vittoria Jazz festival, JVC Jazz Festival, Moscow
Jazz Fest and Budapest Jazz Fest.
Selected press quotes
-4 stars Album
..Arturo Stable has crafted a unique biographical blend of improvisational and
visual art on his new disc, Notes on Canvas..
Aaron Cohen, Down Beat Magazine
..Emotive melodies and masterful arrangements reflect his subjects' origins, while
Stable thrusts directly to the center with powerful rhythmic leadership..
-Forrest Dylan Bryant, Jazz Times Magazine
..a jazz project that is unique, inspiring, and superior to many of the jazz
recordings that have flooded the market in the last years..
Luis Tamargo, Latin Beat Magazine
..Pianist Elio Villafranca and percussionist Arturo Stable have the world at their
fingertips..
Dan Bilawsky, Allaboutjazz
..Versatility, good taste, sense of the right volume, timing, and compositional
skills are rare attributes to most contemporary percussionists. Arturo Stable has
got those and much more..
-Paquito D'Rivera