Description
Narotam Horn
London based composer and pianist Narotam Horn began studying composition under Jonathan Cole and Dai Fujikura at the Purcell School of Music. Narotam was selected as the youngest composer to take part in Harrison Birtwistle's Birthday Celebration in the Queen Elizabeth Hall, and he received an honourable mention in the BBC Young Composer of the Year. Narotam's music has been performed in the Wigmore Hall by the NASH ensemble, the Cadogan Hall by Ian Brown, the Royal Albert Hall, Elgar Room, and the Outsider Art Fair New York.
Narotam's music fuses western jazz and classical traditions together with the devotional folk music of west Bengal. His debut album, "Bhajans" aims to share in principles of devotional music making with fresh stylistic freedom, and features an innovative collaboration with tabla player Keshav Sharma. Together they have explored the melodic and percussive possibilities that cross over the musical traditions of these instruments.
In 2017, Narotam established the River Recital event with VR artist, Ninon Ardisson. This event was started with a vision to showcase and embrace music of all cultures and backgrounds. The River Recital is held in a community of house boats and floating gardens on the river Thames, and has hosted performances from acclaimed musicians such as Teo Gheorghiu, Eugene Skeef, Lucie Treacher and SKELTR.
https://www.narotamhorn.com
Josh Doughty
Josh Doughty began playing the kora when he was eight years old. First learning from his father, Adam Doughty, Josh soon developed a fascination for the instrument and would practice for hours on end, rewinding and replaying cassette tapes of kora masters and figuring out how to play along.
As a teenager, his exceptional talent was spotted by Malian kora legend Toumani Diabate, who invited Josh to visit him in Mali to deepen his learning. Josh made his first trip to Mali in 2007, aged 17, and since then he has made countless extended visits to Mali and the neighbouring regions, embedding himself in the culture and traditions of West Africa. In this time, Toumani has become Josh's teacher, mentor and friend.
Over the past decade, Josh has collaborated with a number of leading musicians from Africa and Europe, including Sampha on his Mercury Prize winning album, Process. He has played at prestigious venues including the Royal Albert Hall, St James' Palace, the renowned Le Diplomate club in Mali and several UK festivals including WOMAD, Tribe of Doris, Tropical Pressure and Shambala. Winner of the World music category at the Welsh International Harp Festival in 2018, Josh also has been featured in Songlines Magazine and has delivered a TEDx talk on his life and his music.
Now living in Bristol, UK, Josh teaches, plays and creates his own music. As well as teaching private students, Josh runs a regular workshop at Basel Music Academy in Switzerland and residential workshops in the UK as part of his co-founded venture, Korason Workshops. He also works with Live Music Now, providing music therapy to people in hospitals, care homes, hospices and special schools.
Josh combines traditional rhythms with modern Western influences, composing pieces with an accomplished individual style that captivates his audience. His passion for this unique, complex and mesmerizing instrument earns him a rightful place amongst a new generation of kora players, and brings joy to all who hear him play.
Naomi Greene
Naomi Greene, Franco-American composer and performer, sings accompanied by an electric harp. The white magic that is her music, she perfected it in Los Angeles, where she has lived for a few years. At the borders of independent pop and folk, her aerial music combined with a bewitching timbre evokes the dreamlike universes of Kate Bush, PJ Harvey or Beth Gibbons of Portishead. Alone on stage, Naomi simultaneously explores musical territories and interior spaces, diffusing, through the alliance of cosmopolitan music and intimate words, her brutal melancholy.
After some promising EPs of hypnotic neo-pop folk ("No Skin", "Collision") and numerous concerts, Naomi is preparing a first solo album centred on the harp, drum machines and poetic lyrics. Her airy, crystalline and refined music combined with a bewitching timbre evokes the dreamlike worlds of great priestesses like Kate Bush, PJ Harvey, Sibylle Baier and Beth Gibbons of Portishead. But with a sense of experimentation and a taste for melodies on the wire that belong only to her.
Naomi sang with the group La Femme on the album Mystère, is currently performing in concert with Laurent Voulzy, and lends her harp playing to M83 for the soundtrack of Yann Gonzalez's latest film. Her collaborators include Canblaster, Jacques, Raphael Hamburger, Tijuana Panthers, Joe Plummer of The Shins, Matt Maust of Cold War Kids, and Clara Cappagli of Agar Agar with whom she had debuted in a duet project produced by Yarol Poupaud.
Born of a painter mother and a sound engineer father, Naomi grew up among artists in Paris near the Canal Saint Martin. At the age of 7, she learned the harp at the conservatory, then gave up classical music a little for the guitar. Greene started her first rock band, Cat King, whose members now form FAIRE. Shortly thereafter, director Christopher Thompson spots her and she made her debut in the seventh art as actress in the credits of the film Bus Palladium, in which she also performs an original song, the moving "Iron House". She then went to study in art schools in the USA and worked there with dancers, made music for shows and played in short films. Above all, Los Angeles-based Naomi reconnects to her first love, the harp,
Fran & Flora
​Described as 'a string duo bound for glory' by Max Reinhardt (BBC Radio 3 Late Junction) Fran & Flora (Francesca Ter-Berg and Flora Curzon) are quickly becoming one of the capital's most sought-after bands. A duo with a distinctive improvisatory style and ethereal aesthetic, they draw inspiration for their material from their travels and mentors in eastern Europe and beyond. Their debut album Unfurl (released 15.2.19) is the culmination of three years creative studio work with producer and musician, Sam Beste (Hejira)
The overwhelming response they received from releasing Unfurl has accelerated their growing reputation across the UK, gaining widespread critical acclaim with attention from national radio, magazines, newspapers and many online publications. They have appeared live in session on BBC 4's Woman's Hour, Radio 3's In Tune, Cerys Matthews' 6 Music show, Soho Radio and Gilles Peterson's Worldwide FM.
Active contributors to London's vibrant music scene and known as collaborators with many ground-breaking artists including Sam Lee and Talvin Singh, Fran & Flora mesmerise their audiences, selling out venues across the UK. Recent performances include Kings Place, The Vortex, Cafe Oto, Eastbourne Folk Club, Klezmer In The Park, Shambala Festival, Shtetl Neukeulln (Berlin), Corsica Studios and the EFG London Jazz Festival. Last summer they were selected by BBC Music Introducing to perform previews of Unfurl at Latitude Festival, which was broadcast live across the BBC network.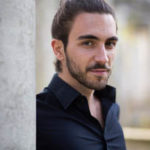 Teo Gheorghiu
Born near Zurich, Switzerland in 1992, Swiss-Canadian pianist Teo Gheorghiu made his concert debut in his hometown at the Tonhalle in 2004. Since then, he has performed throughout the world including in Paris, Tokyo, St Petersburg, Madrid, New York and at all of London's major venues. He has worked with leading orchestras including the Danish National Symphony Orchestra, Tchaikovsky Symphony Orchestra, Royal Philharmonic Orchestra, Tokyo Symphony Orchestra, Orquestra Sinfonica de Bilbao and the Pittsburgh Symphony Orchestra. During his career so far he has enjoyed collaborations with esteemed conductors such as Sir Neville Marriner, Vladimir Fedoseyev, Matthias Pintscher and Alexander Shelley. Teo has won 1st prize in the San Marino and Franz Liszt International Piano Competitions. In 2010 he became the youngest recipient of the coveted Beethovenring at the Beethovenfest Bonn and was awarded the 'Best Canadian Artist' at the 2017 edition of Concours Musicale International de Montreal. His first CD was released by Deutsche Grammophon in 2009 and since then he has been recording for Sony.
In the past year, Teo has particularly enjoyed his return to Piano aux Jacobins in Toulouse, the Tour of Switzerland with the Zurich Chamber Orchestra Quartet, performing the two Ravel piano concertos for the first time in Germany and Canada, going back on tour in Taiwan and being asked by Maria João Pires to play at her recital series in Belgais, Portugal. In the 19/20 season, Teo looks forward to returning to Lille Piano(s) Festival, his debut with the Konzerthausorchester Berlin, recording his 4th CD and performing with his preferred chamber music partners, Chiara Enderle and Lech Antonio Uszynski.
Teo has studied and spent most of his life in London and it is there that he spent 5 years refining his voice under the guidance of his inspirational teacher and mentor Hamish Milne. Since then he has made his own way in exploring varied repertoires and new ways to reflect life into music. While in previous seasons this has manifested itself in contrasting, mainly romantic programmes, Teo's current focus lies in the national musical styles of Romania, Spain and France. As a musician with a multi-cultural background, spending time with Enescu's oeuvre has been his way to get closer to the country of his parents – Romania – while the fascination with Albeniz, Granados, Ravel and Debussy was heavily influenced by his experience of cycling through France and Spain not long ago.