Description
To be rooted in tradition can give  license to go anywhere as it provides a foundation that supports adventurous journeys and structures.  I guess I should qualify that by saying–at least for me and in my opinion!
"Feet on the Earth, Head in the Sky"… to be grounded, and reaching for the stars, rarified air, the unknown.  Numerous musical masters fully manifest this– those that so many of us have built OUR foundation upon.  This saying resonates for me, as it represents a beautiful and balanced way to live, think, create and present music–music that can perhaps sneak past categorical walls and pull folks in who might otherwise not  'hear' it.
I've always been drawn to both masters of tradition and musicians with a uniquely personal language. These are the very voices that I seek out, as a pianist, composer and leader of various ensembles. They are the reason that my own music comes to fruition and I consider their musicality and contributions the greatest of gifts.
In this context as curator, I was able to call on some of my most valued associates through the years and offer them this opportunity to present anything they choose. Unwittinlgy but not surprisingly, the choice of personnel–Billy Hart, Liberty Ellman, Roman Diaz and Roman Filiu— reflects that same aesthetic spectrum.
With this program and presentation we celebrate foundation and creation, as four great  grounded musicians take us into new galaxies of sound and energy.   May this presentation uplift you!
"Ooooo, if the way I feel
Could be vaporous Spirit
entering you.
Like seagulls,
Sound don't tell you it's comin'.
lip in through the pours when open…
I got to…
Spread this thing around…
in my flight
on the way
up
or down
Sound–
is bound
to Be.
(M.Rosewoman)
Michele Rosewoman
Pianist/Composer/Educator
"No other pianist-composer in jazz brings the music of the African diaspora together quite like Michele Rosewoman. One of the most compelling inside-out pianists in jazz, Rosewoman combines a myriad of influences, including Herbie Hancock, Cecil Taylor, and Thelonious Monk…In her playing and wriHng, Rosewoman is way past collecHng influences. Simply put, she's one of the most creaHve and fully realized jazz arHsts on the scene today" CD NOW
For four decades, pianist/composer/educator Michele Rosewoman has expanded the horizons of jazz while remaining firmly rooted in tradiCon. A fearless bandleader and mentor, many have cited that working with Rosewoman made an indelible mark on their arCsCc development as musicians, composers and bandleaders.
To date, Ms. Rosewoman has released 9 recordings as a leader on Blue Note, Enja, SoulNote, Toshiba-EMI and her own label, Advance Dance Disques. Her long-standing Quintessence ensemble (with 5 highly acclaimed releases to date) has consistently brought together the most invenCve voices in jazz (Steve Coleman, Greg Osby, Gary Thomas, Miguel Zenon, Steve Lehman, Steve Wilson, Mark Shim; Robin Eubanks, Lonnie Plaxico, Brad Jones, Terri Lyne Carrington, Tyshawn Sorey, Liberty Ellman). Her New Yor-Uba ensemble, which debuted at NYC's Public Theatre in 1983, presents an uncompromised synthesis of contemporary jazz and tradiConal Cuban folkloric music, uniCng master musicians from both worlds.
Having celebrated 30 years with a 2013 double disc release that garnered the #1 NPR LaCn Jazz Recording of the year award, New Yor-Uba now celebrates 35 years of evoluCon with their latest recording, "Hallowed"– a ground-breaking project released November 1, 2019-to stellar reviews in major publicaCons including JazzTimes, JazzIz, Downbeat and #3 NPR LaCn Jazz Recording of the Year.
Her innovaCve projects have received criCcal acclaim and presCgious grants. Highlights include major support from the NaConal Endowment for the Arts (1983) giving birth to her New Yor-Uba ensemble, and an ASCAP/Meet the Composer Commission for Emerging Composers (1984) awarded by Dizzy Gillespie, Marian McPartland and Lester Bowie. This award culminated in a new work premiered by the 40-piece Brooklyn Philharmonic Orchestra plus quintet of improvisers at the Cooper Union Great Hall, NYC and the Paramount Center for the Arts in Peekskill, NY. Over the years, Rosewoman received Chamber Music America New Works CreaCon and PresentaCon Commissions (2015, 2008, 2006, 2003). In 2016, Rosewoman became a LaCn Jazz Grammy Winner as pianist and composer for her creaCve contribuCon to Arturo O'Farrill's ALJO release, "Cuba, the ConversaCon ConCnues."
Billy Hart
Billy Hart was born and raised in Washington, D.C. Jazz was in his blood. His family lived five blocks from the Spotlite Club, where the underage drummer pressed his ear to the window to listen to the Coltrane-Adderley-Evans edition of the Miles Davis Sextet, and the Lee Morgan-Benny Golson edition of Art Blakey and the Jazz Messengers. His father, a mathematician and "an intellectual cat who demanded respect and knew a lot about a lot," was a staunch Ellington fan; his paternal grandmother had played piano for Marian Anderson and knew William Grant Still. His mother was devoted to Jimmie Lunceford; his maternal grandmother—who bought him his first "good drum set for a gig with a good bebop band"—was a friend of D.C. tenor hero Buck Hill, who turned Hart on to Charlie Parker, and hired him at 17 for nine months of weekend gigs at a spot called Abart's, where fellow McKinley High School students Reuben Brown and Butch Warren joined him six nights a week as the house rhythm section.
Hart matriculated at Howard University as a mechanical engineering major, but left when Shirley Horn, who had hired him out of Abart's, took him on the road. Hart credits her with teaching him to play bebop at a simmer, not a roar. He also learned Brazilian rhythms from the source on early '60s sub jobs at Charlie Byrd's Showboat Lounge with Antonio Carlos Jobim, João Gilberto and Bola Sete.
Hart apprenticed with Washington, D.C. native sons like Jimmy Cobb, Osie Johnson, Ben Dixon, Harry "Stump" Saunders and George "Dude" Brown. Through local connections, he had backstage access to the Howard Theatre, where he analyzed such master New Orleanian drummers as Idris Muhammad (the Impressions), Clayton Filliard (James Brown), Ed Blackwell and Earl Palmer (Ray Charles). In 1967, he occupied the drum chair in the theater's house band performing with The Isley Brothers, Sam and Dave, Patti Labelle, Otis Redding and Smokey Robinson and the Miracles among others.
He was also a sideman with Jimmy Smith (1964–1966), and Wes Montgomery (1966–1968). Following Montgomery's death in 1968, Hart moved to New York, where he recorded with McCoy Tyner, Wayne Shorter, and Joe Zawinul, and played with Eddie Harris, Pharoah Sanders, and Marian McPartland.
In 1969, Hart joined Herbie Hancock's groundbreaking Mwandishi band and remained there for four years recording three trend-setting albums. From there he joined McCoy Tyner's band (1973–1974) and also performed with Stan Getz (1974–1977), and Quest (1980s) in addition to extensive freelance playing and recording (including recording with Miles Davis on 1972's On the Corner).
Howard classmate Marion Brown introduced Hart to Sunny Murray and Rashied Ali. Hart increasingly self-identified as an experimental musician, drawing on their example in a trio with Joe Chambers on piano and Walter Booker on bass. Later, during mid and late '60s stopovers in Chicago with Jimmy Smith, Wes Montgomery and Eddie Harris, he attended to the "textural, timbral approaches" of AACM drummers Thurman Barker, Steve McCall and Alvin Fielder. He applied those lessons during two years with Pharoah Sanders, a period when, via percussionist Mtume, he received the sobriquet "Jabali" (Swahili for "wisdom"). Hart's mature tonal personality—advanced grooves drawing on "some knowledge of African and Indian music, and all the American traditions"—emerged during his years with Hancock's Mwandishi band and subsequent tenure with McCoy Tyner.
Hart drew on all these experiences in conceptualizing Enchance, his debut album as a leader and subsequently, Oshumare (1985), Rah (1987), Amethyst (1993) and Oceans of Time (1997). On each record, he assembled idiosyncratic virtuosos from different circles, each signifying a stream of cutting-edge jazz thought. Functioning more as a facilitator than a stylist, he meshed their distinctive personalities, generating fresh ideas through intense drum dialogue. Each date has a singular quality, as though Hart had conjured a unitary vision out of various strains of the zeitgeist.
Hart currently leads the Billy Hart Quartet featuring Mark Turner, Ethan Iverson and Ben Street. They have recorded three CDs, the most recent, One is the Other, is on ECM Records.
Román Diaz
Master percussionist, scholar and composer Román Díaz is regarded as a "living repository"  of Afro Cuban  music. He has performed and recorded with the likes of Merceditas Valdes, Raices Profundas, Los Marqueses de Atares,Jane Bunett, Juan Carlos Formell, Orlando "Puntilla" Rios, Paquito D'Rivera, Oriente Lopez, Giovanni Hidalgo. As a member of the seminal rumba ensemble Yoruba Andabo, he aided in the creation of the sound that has defined rumba since the 1980's in Cuba and all around the world. The evolution of Guarapachangeo incorporating Bata and the once archaic cajón into modern rumba is the legacy of the late Pancho Quinto (founder of Yoruba Andabo). It is piously carried on by Román Díaz.  As a producer, he has brought together some of the finest interpreters of Rumba from the island as documented on the CD, Wemilere.
Román Díaz left Cuba in 1999 to come to New York City.   Since then he has been featured alongside Orlando "Puntilla" Rios in the critically acclaimed documentary  Calle 54, and in 'Dame La Mano' the film that documents the life and times of Union City's Esquina Habanera,  the Grammyâ nominated rumba ensemble Raíces Habanera and their followers.  His mastery of Batá is present on countless recordings along with his rock solid groove on congas. He has always been sought after for his artistic sensibility,  charisma and signature sound. Evidence of this can be heard as of late in his work with the highly acclaimed pianist and composer Michele  Rosewoman, as part of her New Yor-Uba Ensemble as well as Francisco Mora Catlett's Afro Horn and Danilo Perez's Panama 500 project where he is featured in a scholarly capacity as well. His first stateside release as a leader is L'ò Dá Fún Bàtá on the Motema Label.
Román Díaz is a scholar of Afro Cuban traditions as well. In Cuba, he taught at the Escuela Nacional de Instructores de Arte (the Cuban National Academy for Arts Instructors). He has traveled around the world teaching master classes on Afro Cuban percussion and lately has dedicated himself to lecturing on the topic of the clandestine Abakuá society brought to Cuba from Calabar, West Africa (Nigeria) during the time of the slave trade.
Román is one of those unique musical visionaries capable of steering the evolution of this art form far into the future because of his preternatural understanding of the culture and the sensibility with which he tells a story.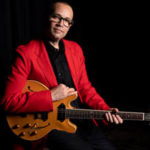 LIBERTY ELLMAN
Based in Brooklyn New York, guitarist / composer Liberty Ellman has performed and or recorded with a host of stand out creative artists including: Joe Lovano, Myra Melford, Wadada Leo Smith, Butch Morris, Vijay Iyer, Steve Lehman, Greg Osby, Rudresh Mahanthappa, Nels Cline, Somi, Nicole Mitchell, Matana Roberts, Ledisi, JD Allen, Michele Rosewoman, Adam Rudolph, Okkyung Lee, and Ches Smith.
Mr. Ellman is perhaps best known for his long tenure in Henry Threadgill's groundbreaking ensemble, Zooid. The group has recorded several critically lauded albums. Their most recent recording "In For A Penny, In For A Pound" earned a Pulitzer prize for Mr. Threadgill. In addition to playing guitar, Mr. Ellman is credited as producer and mixing engineer on that recording. He has mixed and mastered many other recordings as well, including Gregory Porter's "Be Good," which was nominated for a Grammy.
Ellman has released 5 of his own critically acclaimed albums: Orthodoxy (Red Giant), Tactiles, Ophiuchus Butterfly, Radiate and Last Desert (Pi Recordings). His compositional style has been described as "At once highly controlled and recklessly inventive," and the Wall Street Journal said: "Ellman, along with his peers, is helping to define post millennial jazz." Voted #1 Rising Star Guitarist in the 2016 Downbeat Critics Poll, he was also honored in the 2015 Jazz Times expanded critics poll, as one of the four guitarists of the year alongside Bill Frisell, John Scofield and Julian Lage.
Román Filiú
New York-based Roman Filiú has been a saxophonist, bandleader, composer for over 20 years. Born and raised in Santiago de Cuba, he has played, recorded, and toured worldwide with a great variety of artists. He is currently a member of Henry Threadgill´s Ensemble Double Up, and leads several groups himself such as Quarteria, which features David Virelles, Ralph Alessi, Matt Brewer, Dayna Stephens, Yusnier Sánchez, and Craig Weinrib as well as the Roman Filiú Quartet with Billy Hart, David Virelles, and Thomas Morgan. Among his many collaborations, Román has played in Chucho Valdés´Irakere (Grammy Award nominated Babalú Ayé, Grammy Award winning New Conceptions), has been the musical director of David Murray´s Big Band and has played with outstanding musicians Andrew Cyrille, Gonzalo Rubalcaba (Grammy Award nominated Antiguo), Dafnis Prieto(Grammy Award Winner 2018), Milford Graves, Miguel Zenón and Omara Portuondo, to name a few. The musician has been a recipient of the Jazz Gallery Commission Series, the Langnau Jazz Fest Artist in Residence, the Chamber Music America New Jazz Works Award, and the Lucas Artist Residency. He has established himself as a prominent and innovative composer through his work for numerous small ensembles and has written pieces for string quartet, solo piano and saxophone quartet. Roman has also released the albums Blowin' Reflections and Musae, which were praised by the press for their quality and depth and won the CubaDisco Award in Havana in 2013. His most recent album "Quarteria" was well received by the critics and the musicians. Later this year he will release his new album "Okán: El libro De Las Almas".