Description
DRAGONS
Presented by ACT4Music Curator Lau Noah.
Featuring Lau Noah, Larry Goldings, Julia Easterlin and Josh Dion.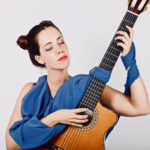 Lau Noah
Lau Noah is a composer, singer and guitarist born in Spain residing in Brooklyn. With highly poetical lyrics and extraordinary harmonic imagery, Noah has been gaining international acclaim, touring worldwide with her solo project and writing for film and television.
" Lau Noah is enchanting music lovers one song at a time" Billboard Magazine.
Larry Goldings
Larry Goldings is a Grammy-nominated pianist and composer. His organ trio with Peter Bernstein and Bill Stewart has been recognized in the New York Times as "the best organ trio of the last decade." Goldings' musical inspirations draw from a lifetime of absorbing jazz, pop, funk, R&B, electronic and classical music.
As a performer and recording artist, he is known for long-term collaborations that straddle the realms of jazz and pop with such artists as Jim Hall, Maceo Parker, John Scofield, Steve Gadd, Jack DeJohnette, Pat Metheny, Michael Brecker, Sia Furler, John Mayer, and others. Goldings has been recording and touring with singer-songwriter James Taylor since 2001, and is the featured musician on Taylor's One Man Band CD/DVD, the culmination of a two year world-wide tour with James and Larry in duet. In 2007, Scofield/Goldings/DeJohnette's Trio Beyond – Saudades (ECM) was recognized with a Best Instrumental Jazz Album Grammy nomination for their searing live recording at London's Queen Elizabeth Hall.
Goldings' music graces the soundtracks of many film and television projects. He contributed to the jazzy fabric of Clint Eastwood's Space Cowboys and enhanced John Madden's roof and Judd Apatow's Funny People with original compositions, as well as providing ghoulish organ music for "Lurch" to play in the animated film, The Addams Family. Goldings' Nino Rota-inspired score to Jeff Garlin's Dealin' With Idiots is the backdrop to this hilarious film about the zany parents of a Little League baseball team. Listeners of NPR's This American Life can hear Goldings' music underscoring many of its dramatic stories.
Larry scored the Netflix series, Self Made: Inspired by the Life of Madam C.J. Walker, infusing the drama with shades of ragtime and early jazz, in combination with modern, back-beat oriented cues, in which early jazz meets hip-hop. The soundtrack has been released by Warner Bros. through Watertower Music.
Julia Easterlin
Julia Easterlin is an American singer, songwriter, loop artist and baritone ukulelist. Her music draws from elements of world-beat, chamber-pop, and contemporary classical music. Her early work entails extensive use of a BOSS RC-50 loop pedal to compose and perform wide-ranging a'capella music for a single voice. She departed from this style briefly in 2015 with the release of Touristes, her collaborative project with Malian guitarist and singer Vieux Farka Touré. In 2017, Easterlin set her loop pedal aside indefinitely to release her first full-length solo album: an acoustic chamber-pop work "Light of a Strange Day" under the moniker Hite. The album was produced by Shahzad Ismaily and Charles Van Kirk and released to critical acclaim.[1] In 2019, Easterlin joined the touring ensemble for dream-pop artist Barrie as a bassist and background vocalist. She currently lives in Brooklyn, New York.
Josh Dion
Josh Dion is a Brooklyn based drummer, singer, songwriter and producer. He is one half of the synth duo paris_monster, which features a unique setup incorporating drums and synth while singing.  "Beyond this visual impossibility is a careful and deliberate balance of frequencies, colors, and textures. Melodies to serve a story. Chaos to destroy preciousness." paris_monster's latest release "Lamplight" is available on all platforms.
Aside from paris_monster, Dion's solo performances have been featured in online videos such as Tam Tam drum festival, Little Big Beat and Drumeo. He has also recently performed with Jim Campilongo, Wayne Krantz, Esperanza Spalding, Lucius, NPR's "Live from Here" featuring Chris Thile, and has been a guest drummer on Late Night with Seth Myers.
"… the work of a highly skilled, soulful and rare musical voice." – modern drummer