Description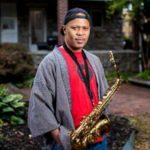 Steve Coleman
Born in Chicago, alto saxophonist and composer Steve Coleman moved to New York City in 1978 and has lived in the NYC area since. A leader of several groups, his main group 'Steve Coleman and Five Elements' began in 1981 and is still active today. Steve incorporates elements from the folkloric music of the African Diaspora fused with musical ideas influenced by ancient metaphysical concepts.Coleman's work is known for its use of what most perceive as indefinite meter. The feel of the music is usually groove-based, but with a loose spontaneous fluid structure that is the consequence of the melodic, harmonic and rhythmic relationships of various cycles, expressed using an extemporaneous concept. In creating his music, Steve has used methods that can be linked to two concepts: Energy (the potential for change and change itself in physical, metaphysical and psychic phenomena), and Sacred Geometry (the use of shapes to symbolically express energy and natural principles). Steve's latest recording is "Live at the Village Vanguard, Vol. I (The Embedded Sets)",available on Pi Recordings.
Photo credit: John D. & Catherine T. MacArthur Foundation
Melissa Aldana
On her first jazz quartet "Visions", award-winning saxophonist Melissa Aldana connects her work to the legacy of Latina artists who have come before her, creating a pathway for her own expression. Inspired by the life and works of Frida Kahlo, Aldana creates a parallel between her experiences as a female saxophone player in a male-dominated community, and Kahlo's experiences as a female visual artist working to assert herself in a landscape dominated by men. On her first jazz quartet recording, Aldana adds a new dimension to her sound, resulting in a transformative movement of expression and self-identity. Aldana was born in Santiago, Chile. She began playing the saxophone when she was six, under the influence and tuition of her father Marcos Aldana, also a professional saxophonist. Aldana began with alto, influenced by artists such as Charlie Parker, Cannonball Adderley, and Michael Brecker. However, upon first hearing the music of Sonny Rollins, she switched to tenor; the first tenor saxophone she used was a Selmer Mark VI that had belonged to her grandfather.
She started performing in Santiago jazz clubs in her early teens. In 2005, after meeting him while he was on tour in Chile, she was invited by pianist Danilo P.rez to play at the Panama Jazz Festival, as well as a number of auditions at music schools in the USA. As a result of these introductions, she went on to attend Berklee College of Music in Boston, where her tutors included Joe Lovano, George Garzone, Frank Tiberi, Greg Osby, Hal Crook, Bill Pierce, and Ralph Peterson
Aldana graduated from Berklee in 2009, relocating to New York City to study under George Coleman. She recorded her first album, Free Fall, released on Greg Osby's Inner Circle Music imprint in 2010. Her live shows in this period included performances at the Blue Note Jazz Club and the Monterey Jazz Festival, and her second album, Second Cycle, was released in 2012. In 2013, aged 24, she was the first female musician and the first South American musician to win the Thelonious Monk International Jazz Saxophone Competition, in which her father had been a semi-finalist in 1991. The prize was a $25,000 scholarship, and a recording contract with Concord Jazz. Reporting her win, the Washington Post described Aldana as representing "a new sense of possibility and direction in jazz".
2029 Melissa Released her more acclaimated album " Visions" Under Motema Music and her most recent recognition is her Grammy nomination for "Elsewhere" as " Best Jazz Solo" 2020 which was one of the tracks from that album.
Nowa Jane Obura Jarro
Charles McPherson
Charles McPherson was born in Joplin, Missouri and moved to Detroit at age nine. While growing up in Detroit, he studied with the renowned pianist Barry Harris and began his professional career at age 19. He moved from Detroit to New York in 1959 and joined Charles Mingus from 1960 to 1972.
For six decades McPherson has performed at concerts and festivals all over the world.  Charles was featured at Lincoln Center showcasing his original compositions 15 years ago, and once again joined Marsalis and J@LC Orchestra in April, 2019 honoring his 80th Birthday.  Charles has toured with his own group, soloed with orchestras, and played with countless jazz greats including Barry Harris, Billy Eckstine, Lionel Hampton, Nat Adderly, Jay McShann, Phil Woods, Wynton Marsalis, Tom Harrell, Randy Brecker, James Moody, Dizzy Gillespie, and others.
McPherson has recorded as a guest artist with Charlie Mingus, Barry Harris, Art Farmer, Kenny Drew, Toshiko Akiyoshi, the Carnegie Hall Jazz Orchestra, and the Lincoln Center Jazz Orchestra with Marsalis. He has recorded as a leader on Prestige, Fantasy, Mainstream, Discovery, Xanadu, Arabesque, Capri and several smaller labels. Charles was the featured alto saxophonist in the Clint Eastwood film "Bird".  Charles has received numerous award and is widely recognized as a prolific composer, Charles is now Resident Composer for the San Diego Ballet, where he has written three original suites.
McPherson remains a strong, viable force on the scene today.  Charles has not merely remained true to his Bebop origins, but has expanded on them.  "Charles is the very definition of excellence in our music," said Marsalis, a longtime admirer. "He's the definitive master on his instrument. He plays with exceptional harmonic accuracy and sophistication. He performs free-flowing, melodic and thematically developed solos with unbelievable fire and an unparalleled depth of soul."
Photo by Antonio Porcar Cano
The San Diego Ballet performs "Reflection and Hope" and "Gershwin Divertissement"
Photo: Gary Payne