Description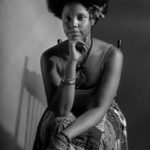 Melvis Santa
Grammy Nominee Melvis Santa is known for her creativity as a multidisciplinary artist. Vocalist, composer, actress, classically trained-pianist and music educator, she was born and raised in Havana, Cuba in a family that preserves Afro Cuban folk tradition for generations. Melvis made a splash on the music scene at age 14 when she founded the all-female vocal quartet Sexto Sentido. The group won 1st Prize in JoJazz Competition 2001, and Chucho Valdés deemed as "the best Cuban vocal quartet of the past 30 years." After a performance in Jazz Plaza Festival joining Chucho's iconic band Irakere, Sexto Sentido was invited to perform for the first time at La Cigale, Paris by Steve Coleman and Five Elements. Over a decade later Melvis joined the seminal timba-funk fusion band Interactivo as a lead vocalist, directed by Roberto Carcassés. They received Cubadisco Awards for various album recordings and toured Europe and the US, performing venues and music festivals.
.
In 2010 Melvis spread wings and went solo as singer-songwriter. Her debut album Santa Habana includes 9 of her compositions. The record was nominated for Cubadisco Awards and released in France. Her music concept deepens the exploration of Afro-Cuban traditions intersecting modern, urban rhythms and absorbing jazz influences.
Based in New York since 2014, Melvis continues to make a mark as a performer and educator. She has taught masterclasses and conducted residencies at NYU, Yale University, CUNY, Creative Jazz Institute at UArts, Chicago Jazz Phillarmonic. Also at Tulane University, as a frequent collaborator of CubaNOLA Collective, as well as in arts Centers in Latin America, Canada, Europe and Australia.   Melvis is a Teaching Artist recipient of 2020 Paul Simon Fellowship to create a Vocal program that incorporates Latin Cultures in the American system of Education. With her band Ashedí, a project that features master percussionists Román Díaz and Rafael Monteagudo, Melvis explores original compositions inspired on traditional folk Afro Cuban styles such as Rumba. As an ARTivist, she created the all-female project Ellas Son to revindicate the presence and work of women in Latin music. Melvis has also featured as artistic curator for the Jazz Museum in Harlem and The Jazz Gallery.
Melvis has collaborated with the who's who of the Latin and Jazz communities such as Buenavista Social Club, Andy Bey, David Virelles, Ravi Coltrane, Linda Oh, Emeline Michel, Arturo O'Farrill Afro Latin Jazz Alliance, Brooklyn Raga Massive, Rumberos de Cuba, Team Cuba de La Rumba, and Muñequitos de Matanzas.
Brenda Navarrete
www.brendanavarrete.com
Brenda Navarrete presents Rumberas XXI, a women perspective on Afro Cuban percussion. Brenda's unique style develops from mixing ancient and modern rhythmic concepts and tones that resonates in her present times.
About the Artist
Percussionist, vocalist, composer, arranger and dancer Brenda Navarrete set her sight on the study of Percussion at age 9. Since then she started self-teaching how to play while participating in community cultural projects like Consejo Popular de Colon (COMPODECO) and Alafia, a dance and music folk group led by master folklorist Domingo Pau. Her older sister Melvis encouraged her to pursue further music studies in a music conservatory. Jazz Band director Joaquin Betancourt took her under his wing and helped shaping her multiple talents and musicianship. During those years her sister Melvis into the classic world, Brenda graduated from Amadeo Roldan in 2009 as a Classical Percussion Instrumentalist and Teacher. During the conservatory years, In 2010 Brenda won the 1st Prize of Bata drums category and Best Interpretation, in Cuba's prestigious competition Fiesta del Tambor. From there on her career took off and she started collaborating with an array of renowned artists, including the all-female Afro Cuban percussion ensemble Obini Bata, Melvis & Santa Habana, Interactivo, Alain Perez, just to mention a few.
Her debut solo album Mi Mundo (Alma Records, 2018) marked a new chapter in her career. With a solid foundation of Afro-Cuban and Latin Jazz, Brenda spread her wings into contemporary world music scene, challenging both musical and cultural conventions, creating innovative Afro-Cuban music infused with a variety of genres like hip-hop, reggae and electronica.
Magela Herrera
About the Artist
"A technical virtuoso, Herrera plays with a warmth and soul far beyond her years. Her solos impress with their unexpected and joyous twists as she turns harmonic invention inside out. No wonder she is a familiar face on the musical scene in Cuba, wherever hot and memorable 'descarga sessions' can be heard. Herrera is also an accomplished pianist." (…)    -Raul D Gama.
Magela Herrera grew up between two worlds: one her family's deep ties to a large set of unique traditions influenced mostly by west African and European; the other the years she spent learning and studying classical music at the Conservatory of Music in her native Havana. Flautist, vocalist and composer Magela holds a Master in Jazz/ Improvised music performance, and a Bachelor degree from the Norwegian Academy of Music. Throughout her career, Herrera has toured worldwide developing a unique timbre, phrasing technique, rhythm and melodic skills on the flute. She has also evolved as a pianist, vocalist, arranger and composer leading her own projects.
Today Magela Herrera is considered one of Cuba's leading flute players in jazz and popular music scene. Often praised for her unique background from Latin Jazz, European jazz, and Afro-Cuban music traditions, she was a member of the renowned band Mezcla, one of the most famous Cuba's leading jazz & fusion ensembles. She has also shared stage with an extensive list of acclaimed artists such as Chucho Valdés, Ruy López Nussa (Cuba); Barbara Dane (USA); Jan Eggum(Norway), Alejandro Vargas (Cuba), Sanskriti Shrestha(Nepal) and Oslo Chamber Orchestra (Norway), Eliel Lazo and The Cuban funk machine (Denmark). She has featured at various Jazz Festivals in Oslo, Copenhagen, Toronto, and has performed at different jazz club and venues worldwide. Herrera holds a nomination for Best Flute Solo in Latin Jazz 2010, for her flute improvisation on Mezcla's CD "I'll see you in Cuba" by the prestigious New York based magazine Jazz Corner: Latin Jazz magazine.
Her debut album "Explicaciones" (2018) was critically acclaimed and opened a new chapter in Magela's successful career and artistry. "Nothing can prepare one for her breathtaking performance on her debut recording Explicaciones. Here she not only wields her flute with a generous measure of magic, but also sings with heraldic beauty. Both aspects of her musicianship make one wonder if this young woman is not the proverbial "old soul" and there is more than enough in this repertoire to suggest that this is true." Raul D Gama – Latin Jazz Network
Ana Bia
Ana Bia presents "Acoustic" a duo project with piano. Her bass and voice performance explores original compositions and classical repertoire adapted to her own vision.
About the Artist
Bassist, composer and music educator from Havana, Cuba. Ana Bia began her musical journey in her early years. She took piano and music theory lessons at age 6 and since, her fascination for the sound of the bass shaped her life. Ana studied at an Elementary Music School and immediately showed a special talent for this instrument and for performance. She participated frequently in cultural events, local festivals, and also won various school competitions. This draw attention from experienced musicians who started supporting her career from this early stage. Ana became a regular guest collaborator of local chamber and symphonic orchestras. Years later she continued further studies at the Amadeo Roldan Conservatory in Havana, where her vision as a bass instrumentalist took another dimension, while playing within different instrumental formats, styles and genres. It included double bass quartet, symphonic and chamber orchestra, jazz band, Cuban Popular Music ensemble, and jazz ensemble. Ana continued participating in many events, festivals, competition, and also started recording. Graduated as a soloist and double bass teacher, her life as a professional focused in Music Education for some years, teaching at Arts Schools in various provinces of Cuba. Simultaneously, she managed to continue advancing her bass studies at the Arts University (I.S.A) where she graduated as double bass Master Soloist. A new chapter began with touring national and internationally as a performer and educator. Since then, Ana has collaborated with the who's who of the classical and popular music scene. In 2016, along with pianist José Tomás Díaz Nuñez, she founded the group Dimensión Cubana. The band was critically acclaimed in Cuba and also touring internationally, including Asia and Europe. After, Ana Bia spread wings as solo artist. She is currently based in Chicago, Illinois, absorbing the vibrant music scene the city has to offer. Her current project explores a new edge as vocalist, composer and improviser, proposing a musical openness that already defies categorization.
Camila Cortina
Camila Cortina presents Hablando con ellas, a 30 minutes set that pays tribute to some of her favorite female composers in a solo piano set: Isolina Carrillo, Marta Valdes, Geri Allen, Maria Schneider and Alice Coltrane.
 About the Artist
Camila Cortina Bello is a pianist, music educator, musicologist and composer from Cuba. Born in Havana (1988), she studied Classical Piano and Music Theory at Amadeo Roldan Conservatoire and later majored in Musicology with Summa Cum laude distinction at the Higher Institute of Arts (Havana, 2010).
In 2007, Camila obtained the 1st Prize in Jojazz Contests in the category of jazz composition. Later she was selected as the music composer for the documentary "Ciudad del Futuro" (City of Future). The work was awarded as Young Producer and Best Edition in the festival of documentaries "Santiago Álvarez In Memoriam 2009". During her years in Cuba she shared stage and collaborated with prestigious musicians such as Joaquín Betancourt and Bobby Carcasses. She was invited several times to perform at Jojazz Opening concerts and the Jazz Plaza Festival (2008). In 2010, Camila decided to move to Asia and perform as a pianist and music director of different bands across Indonesia, Malaysia and Singapore. She also performed in Bali Jazz Festival in 2012, Singjazz 2017 (Singapore), Jazz by the Bay (Perth, 2017) and Borneo Jazz Festival (Borneo, 2018).
Camila relocated in Boston, US as a recipient of Berklee World Tour full tuition Scholarship 2018, from where she further her career on the fields of performance and jazz composition. As a Berklee student, Camila has performed in the Next Generation Jazz Festival (Monterrey, 2019) as pianist of Sheila del Bosque's Trio and at Dizzy's Club in NYC (2019) as part of a Berklee ensemble led by acclaimed jazz pianist Kris Davis. She has also performed actively as part of the Berklee Jazz Gender Justice Institute and has collaborated as orchestrator in some of the school most important productions like Aida Cuevas meets Berklee (2019) and Soundscapes of Spain (2020) featuring flamenco artists Ismael Fernandez and Sonia Olla. In March of 2020 she received the Duke Ellington Award from Berklee Jazz composition department and the Pianist/Composer award from the piano department (April, 2020) respectively.